The Red Line: Tirreno–Adriatico 2021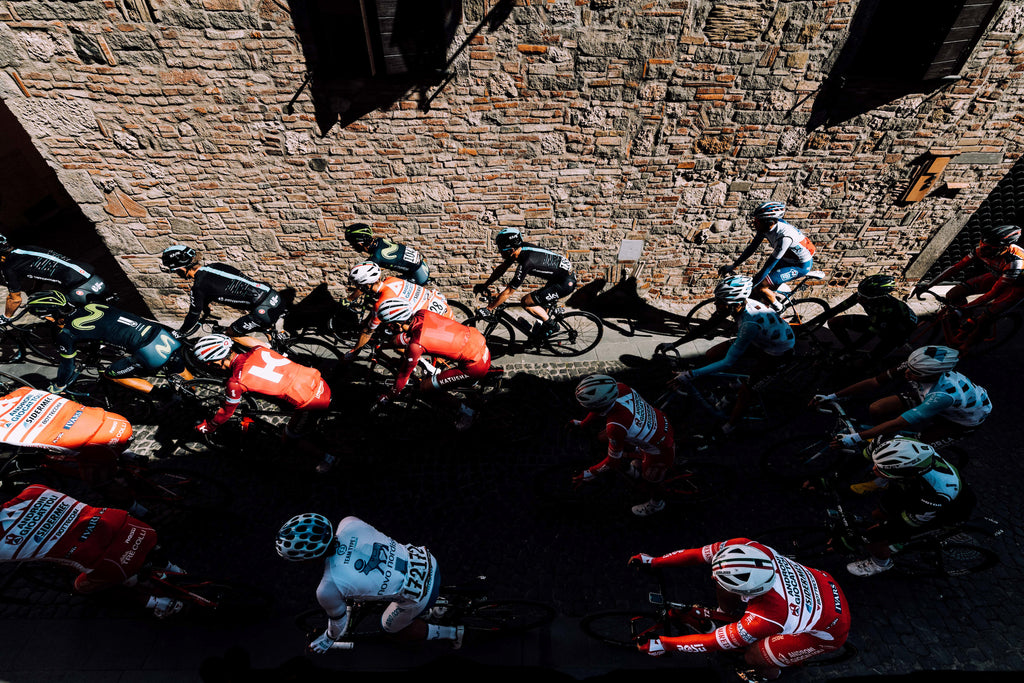 The Road Book presents "The Red Line": An alternative to a simple race report, bringing you regular impressions and musings to complement the racing calendar.
Pushing back the boundaries: reflections on the 2021 Tirreno Adriatico.
Year in, year out, Tirreno Adriatico pushes the boundaries of what can be demanded of WorldTour riders so early in the season. it is the nearest thing to a Grand Tour compressed into one week of any other race before Milano Sanremo, and this was reflected in the line-up of team leaders for this year's race. They included Tadej Pogačar (UAD), Mathieu Van Der Poel (AFC), Julian Alaphilippe (DQT), Wout van Aert (TJV), Filippo Ganna (IGD), Vincenzo Nibali (TFS), Egan Bernal (IGD), Nairo Quintana (ARK), Geraint Thomas (GFC), João Almeida (DQT), Jakob Fuglsang (APT), Mikel Landa (TBV), Pello Bilbao (TBV) and Peter Sagan (BOH).
Of course, the landscapes dictate the typology of the stages: a flat day or two on the Tuscan coast, an uphill finish in the foothills of the Apennines that run down the spine of Italy, a high mountain stage in the Central Italian Apennines, a semi-classic with a series of short, very steep ramps in the area around east coast towns like Tortoreto, Porto Sant'Elpidio or, as this year Fermo. A stage taking in the Adriatic coastline, and then the short, flat final time trial in San Benedetto del Tronto. But for its context in a week-long stage race, the stage with the steep ramps would truly be Europe's southernmost northern classic.
And what a race it was! Talk of "disrupters" is old hat these days: champions barely in their twenties, cyclocross champions who borrow a road bike and tear the peloton to shreds, track riders who win mountain stages, those droves of young Colombians. Why do we call them disrupters? Well, because cycling once had a store of certainties that no longer apply. Young riders didn't enter Monuments like Paris-Roubaix or three-week races like the Tour de France. You might ride the first 10 days at 24, but the full three weeks waited until you were 25. You peaked at 27 or 28 and had five years at the top, at best. Procyclingstates.com recently published a table showing world ranking points scored by riders under 23 per season. In the year 2000 it was 2.9 per cent. By 2020 it had grown to 11.8 per cent: a four fold increase.
This year's Tirreno was dominated by them: the young prodigy (Pogačar) and the cyclocross-crossovers Van Aert and Van Der Poel (and, to a lesser extent, Alaphilippe). All of them won at least a stage: Van Aert, stages 1 and 7; Van Der Poel, stages 2 and 5, Alaphilippe, stage 3. Pogačar, stage 4, the high mountain stage. There was precious little left for anyone else in this year's race, apart from on stage 6, when Mads Würtz Schmidt (himself a junior and Under-23 world time trial champion) won from the breakaway. His win had a wider significance as his directeur sportif, Israel Start-Up Nation's Cherie Pridham, celebrated her first victory as the WorldTour's first female sports director.
Before stage two, asked if he thought they were good for the sport, Nathan Haas, reflected, "By all means, but they sure make life difficult for the rest of us! It's hard to sort of see what stages you can target when you're racing against these guys." Now, if a Peter Sagan is worth 6 million Euro a year, what is a Van Aert worth? 10? 12? To employ such riders, teams might have to lower wages for domestiques. Cycling's already unbalanced account sheet might be about to get even worse.
So what did we learn from the racing? Well, not only can Wout van Aert beat Caleb Ewan in an out-and-out sprint, as he proved in stage 1, he can beat Filippo Ganna in a time trial, and climb very much in the fashion of Tom Dumoulin. Even bearing in mind his two superlative stage wins, the ride of the week may well have been his pursuit of Tadej Pogačar on the big climb on stage 4 to Prati di Tivo, neither receiving nor asking for any help from the line of ten or fifteen contenders on his wheel. A lesser rider might very well have conceded ten or fifteen minutes. Wout conceded 29 seconds.
So: he sprints, he climbs, he tests – but he was still no match for Pogačar. We didn't need telling that the Tour de France champion can attack. The new discovery is that he has the tactical maturity to manage a tiny gap, as he demonstrated on that same mountain stage, stage 4, winning by 6 seconds after a 7 km solo attack when his advantage never exceeded 10″. The following day, on the walls around Fermo, he turn attack into pursuit, converting Van Der Poel's massive, 3'20" lead into a tiny 10″ margin in 18 km.
Part of Pogačar's game plan was clearly to pounce on any attack made by the previous Tour de France winner. Part of Egan Bernal's game plan was to ride uninhibited by the consequences. The combination made for compelling watching, although it cannot have been good for Egan's morale. Three reflections on this, however: the first is that contenders targeting the Tour are usually stronger at Tirreno Adriatico than those aiming to be in top form at the Giro, for the simple reason is that a Tour rider can build for an early peak of form, then lower the intensity and build again for July, whereas Giro preparation has to be more linear. In his flash interview after the final time trial, Pogačar admitted, "It's a fantastic start to the season, but now I already need to take a rest." A Giro candidate has no such luxury. In other wordss, it might be a mistake to read too much into Pogačar's superiority here over Bernal who in any case, is coming back from debilitating injury. In any case – second reflection – come July, it is not inconceivable that we will be asking whether it was wise for Pogačar to have been pushing such a big gear in the mountains as early as March. My third consideration is that we saw Egan combine with Sivakov or Geraint Thomas to orchestrate sequences of attacks (as he did with Ivan Sosa at the Tour de la Provence). It misfired more than it succeeded, but they were the tactics that allowed him to win the Tour de France in 2019, and it was good to see them revived. We will no doubt see more of this in the weeks before the Giro if they can get the mechanism working, Ineos Grenadiers potentially have the numbers to overwhelm a single rival leader.
Going back to Pogačar's cool tactical mind, Mathieu Van Der Poel comes across as the anti-Pogačar: a rider of unbelievable strength who works on impulse, and hang the consequences! That said, his ruthlessness is striking. On stage three to Gualdo Tadino, he rode hard to ensure Caleb Ewan would not regain the bunch after he was caught back to the team car when the pace at the front suddenly increased. Ewan's abandon will have greatly hindered his preparation for Milano Sanremo (just as Van Der Poel's spectacular hunger crisis on stage 5 will have damaged his). Memories in cycling are long, and I wonder if there will be future repercussions between their two Belgian teams.
I don't think Mathieu is a Milano Sanremo ride, BTW. The sheer length seems logically to place it beyond the powers of a rider susceptible to hunger knocks, unless, perhaps, it takes place in the most clement conditions.
Going back to the proliferation of Belgian teams in the World Tour races – Lotto Soudal, Deceuninck – Quick Step, Intermarché – Wanty – Gobert and Alpecin Fenix (which, as the best ProTeam of 2020, has access to the WorldTour races), plus the Netherlands-registered Jumbo-Visma, that makes five teams from the Low Countries – this resurgence may represent a generational shift in the geography of cycling talent, even before Remco Evenpoel returns from injury, and the 17 yer old Cian Uijtdebroeks, already with Bora-Hansgrohe, comes through.
But the matter most obviously raised by this Tirreno Adriatrico is that of the so-called "disruptors" (sometimes light-heartedly called the "new humans"!). I wonder if they are all really part of the same phenomenon? I think not. It is obvious that more is known about exercise, diet, and development than ever before, and that good coaching has never been so accessible. The revolution in metrics means that today's 20 year olds have been using technology that captures performance and represents it as simple numbers – heart rate, power output, watts generated or milliliters of oxygen consumed per kilo of body weight – since their early teens, and have never known anything different. They are used to focusing on a number, and making it one notch, two notches bigger. Sport becomes a percentages game.
If this Tirreno Adriatico is a waypoint in the story of the disruptors, where did the journey start? It has been said that Bernal's Tour win in 2019 encouraged other youngsters to believe in themselves, despite their tender years. But that is easy to go back much further, via Pogačar at the 2020 Tour, Van Aert at Strade Bianche, Milano Sanremo and, again, the Tour, Evenepoel at the 2020 Tours of Burgos and of Poland, then, before Bernal's Tour win, Van Der Poel at the 2019 Amstel Gold Race, Ganna's 4:01.934 pursuit in February 2019, and almost every race Remco Evenepoel or Quinn Simmons (also in a breakaway during this Tirreno) have ridden since 2019. IThe history goes back at least as far as Mathieu Van Der Poel Junior World road win in Florence in 2013.
2013, of course, was the year of Nairo Quintana's second place in the Tour de France. Nairo, by the way, also coming back from injury and an operation of both knees, was 5th in the big climb up to Parti di Tivo, and 5th in GC at the end of the day, although he dropped back to 12th the following day in the rainstorm that accompanied the gruelling 'ramps' stage. To go back to 2012, his first year as a pro, he argued bitterly with his team before the Giro. Told to prepare for it at the start of the year, he heard on the eve of the race that he would not be racing. Judging by his performance on Coutu Negru at the 2012 Vuelta, he is another rider who emerged fully formed at the age of 19 or 20. But Nairo never had access to the equipment or the expert training. Should Nairo and the other Colombians be included among the disruptors? I think they should, but in a category of their own. They are the product of very different processes: the impoverishment of small farmers due to global Free Trade. The accepted formula – scientific coaching, better metrics, heightened self-belief – seems satisfying, until you reflect that in 2020, the WorldTour, cycling's top tier, had 544 riders from 44 different countries, including developing nations, not all of which offer the same access to coaching and technology as the wealthier west. The Colombians helped drive the advent of the new humans, but they belong to their own subcategory of disrupters.
In short, there are several processes going on here, that interact and combine to accelerate the rejuvenation of cycling.
Final thoughts on the 2021 Tirreno Adriatico. Mikel Landa (TBV), 3rd overall, seems to be enjoying a career revival. Riding his first stage race for his new team, Romain Bardet (DSM) quietly secured himself a good top ten. Matteo Fabbro (BOH) 5th, is coming through as an enormously exciting young climber. Almeida, already 3rd in the UAE Tour and 6th in Tirreno Adriatico this season, and not 23 until 5 August, is also a champion in waiting… and the Bais brothers, Mattia and Davide, are just wonderful: both joined breakaways, and both were the dominant riders in their breakaways.
Now to catch my breath!
(Matt Rendell is the author of 'Colombia Es Pasión: the generation of racing cyclists who changed their nation and the Tour de France")