Annemiek van Vleuten: Rose Manley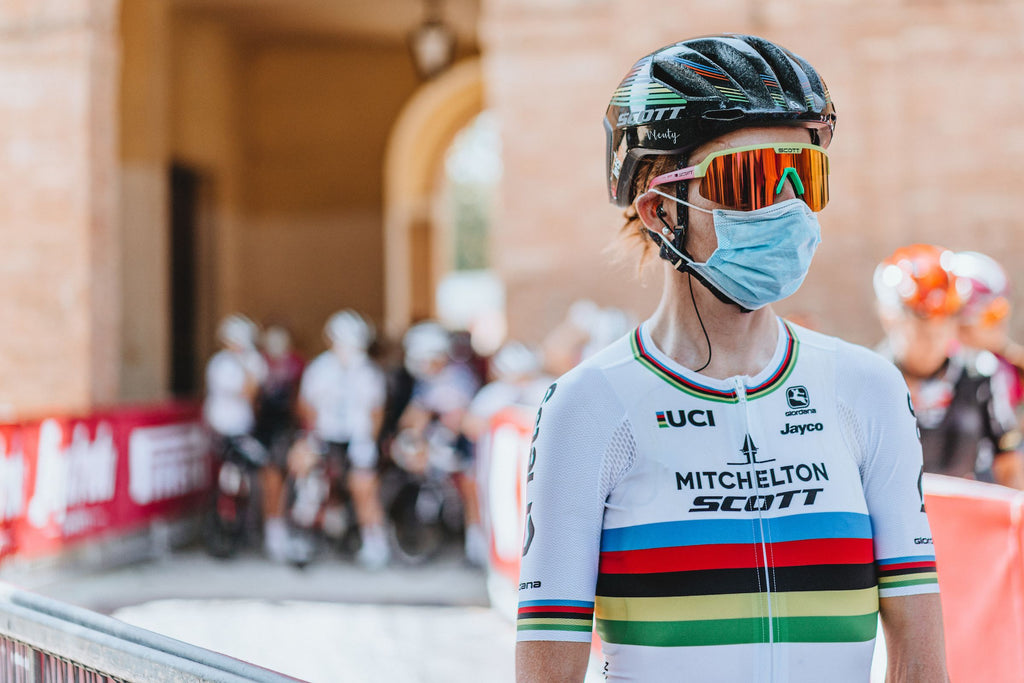 Extract from The Road Book 2020 Edition. To read the full essay from Rose Manley and many more from our array of incredible contributors, purchase your first edition copy by 20th December 10pm for guaranteed Christmas delivery.
It was the first time Annemiek van Vleuten had been seen at the front all race and, for the first time in an imperious year as world champion, she was no longer in the rainbow bands. Climbing alongside what was now a select group of three on the Cima Gallisterna in the 2020 World Championships, her most distinguishable feature was the cast that enclosed her left wrist. She had fractured it 11 days previously but would not now let it end her title defence before it had begun. Bouncing out of the saddle, she accelerated, teeth gritted, neck strained, her bike half-collapsing under the violence of every pedal stroke. Other champions fell back from her wheel. The onslaught was brutal, even for Van Vleuten herself.
As she approached the top of the climb, riders scrambled to reach her but were left floundering, all but Anna van der Breggen. Van Vleuten's closest rival and national teammate had already picked up two major wins that week in the Giro Rosa and the World Championships time trial. Now she was going onwards for another, tapping out her metronomic rhythm as she eased past her compatriot. Van Vleuten kept going, flailing her bike with a silent fury. Van der Breggen's gaze was already fixed on the unseen finish line beyond, while Van Vleuten's eyes searched downwards across her arms and legs and handlebars, probing for answers. Wracked with pain, heart empty, trapped in the crosshairs of individual glory and team loyalty.
Van der Breggen won the World Championships without challenge. She became the first rider to take both the road race and time trial titles at one World Championships since Jeannie Longo. Days earlier, she had won the Giro Rosa for the third time in her career. But such spectacular achievements will be forever marred by two invisible asterisks to those who watched them:
* defending champion Chloé Dygert crashed out of the ITT while holding the leading time
* maglia rosa Van Vleuten crashed out with a broken wrist with almost two minutes' advantage and two days to go
It is not that Van der Breggen did not deserve these victories. She did. It goes without saying that the first challenge for any hopeful champion is simply to still be on your bike at the finish line. However, even as a rider who has claimed all the major titles – Olympic, World, European, National – only ten days earlier no one would have looked past Van Vleuten, such had been her all-encompassing dominance in the rainbow bands this season.
And I mean all season. The worldwide pandemic disrupted the usual racing rhythms and condemned everyone to varying degrees of inertia, anxiety and self-reflection inside their own four walls. For athletes, motivations changed, form evaporated, and some were burdened with profound realisations that would be impossible in the race-and-repeat nature of their occupation. Despite all this, Van Vleuten's position on top of the podium went unchanged. Her first win in the rainbow colours that she had claimed at the Yorkshire World Championships came in her very first race, back in February, overcoming a late mechanical on a slushy, muddy day at the Omloop Het Nieuwsblad. On the resumption of the racing calendar, her unbeaten run continued with a trio of Spanish races and then Strade Bianche, where she attacked from the third group on the road and won. In a sport where some 150 riders take the start every time, navigating millions of infinitesimal decisions, balancing weather and terrain, luck and risk, to be unbeatable is almost absurd.
On initial impressions, Van Vleuten is just as formidable off the bike too. She doesn't suffer fools gladly, if at all. Wide, round, ice-blue eyes framed by mascara-black eyelashes give her the look of a jaguar preparing for ambush. Serene, confident, sharp as a claw. I've watched packs of underprepared journalists turn to deer, giddy and directionless as she gives pause to their question and narrows her eyes. It's a fate I've barely avoided myself.
She trains relentlessly at altitude, most often alone, following a schedule that even Lizzie Deignan commented would leave most, including the former world champion herself, 'six feet under'. Multiple Classics champion Elisa Longo Borghini famously described Van Vleuten as 'an alien'.
And yet, no one looks more human on a bike than Van Vleuten. It never looks easy, even when the winning margins are huge. The suffering is always just under the surface. Even on her way to her 2019 World Championships victory, thoughts of futility, of bodily weakness flickered through her mind: 'They're killing me, just to play a game… I'm out in the open wind here, dying by myself.' She won by 2 minutes 15 seconds.
Nowhere was this balance of frailty and capability more apparent than on stage 2 of the Giro Rosa, on a route taking in some of Tuscany's famous gravel roads, albeit those that would be considered too precarious for Strade Bianche. With 15km left, Van Vleuten leads a sparse group of favourites towards a final uphill stretch of white road. Springing out of the saddle, handlebars swinging wildly from side to side, she accelerates away. As the cameras readjust, she emerges, a lone silhouette, cutting through the plumes of dust that rise on the horizon, hunched over, rocking her bike with arms bowed, like a gunslinger in a spaghetti Western.
She pushes on, as motorbikes get stuck in rivets, loose stones scatter under her wheels, fans evaporate into a grey haze. Her advantage stretches from 12 to 24 seconds. And then, she's off. Off her bike. She topples clumsily to her left but manages to free her feet from the pedals. And then she stands up, machine to her side. All at once, she is no longer a part of this perfect mechanical system of cogs and levers. No longer is she the driving force that turns the pedals, that turns the wheels.
There she stands, for mere milliseconds, an amalgamation of all those setbacks and lessons and successes of the past, with the maglia rosa drifting away from her grasp. She needs to get to that finish line and, if only for a few moments, her bike is superfluous. So she runs, barely a run, dragging her bike up the hill. Hunched over, feet slipping, hardly making progress. A neutral service mechanic tries to give her a push as she remounts and in his eagerness sends her floundering over the loose gravel, weaving sideways across the road she should be following. Another push at least sends her vaguely in the right direction, but only after a few pedal strokes of her own does she manage to clip back in. By now her advantage is all but gone, Van der Breggen is making up ground relentlessly, unfalteringly and has her regular rival back in her sights.
Van Vleuten goes onwards, crunching over the gravel and back onto the asphalt. Even here she looks as if she is treading treacle. That's how it always is with Van Vleuten. When you watch her on any terrain, in any position, you see all the full-bodied agony that goes into winning bike races. Face ashen with dirt, shoulders slumped, head lolling, mouth falling open into the shape of a breathless scream.
She isn't like those bygone heroes you find on a collector's cigarette card, gliding so elegantly with brandy in their bidons and a tin of pomade in their jersey pocket. Those smooth-wheeling types so perfectly connected to their bicycles that it is almost impossible to imagine they were ever created separately. Van der Breggen is one of those (minus the brandy and pomade, of course). Her gaze is always fixed, shoulders and hips always aligned whether she's winning or losing, attacking or sheltering. The motions of her accelerations are almost imperceptible, so perfect is the transfer of power. It's only when you see the metres of road rapidly unfurling behind her like ribbons from a magician's hat that you realise she is going a little harder.
With Van Vleuten, on the other hand, it's never clear if she is wrestling with her bike or with herself, or both. This is the athlete who once said: 'I don't like to suffer, but I'm good at it.' As close an approximation to the whole of the human condition as you're ever likely to get in the pro peloton.
Van Vleuten made it to the finish of that dramatic Giro stage still 1 minute 16 seconds ahead of Van der Breggen. She didn't dare raise her hands in celebration until after the finish line. For her efforts, she took the maglia rosa and a commanding lead in the General Classification. A few days later, though, and it came to nought. By stage 7, Van Vleuten was leading by almost two minutes on GC. An innocuous touch of wheels in the final kilometre took her down and she broke her wrist in the ensuing tumble. The rest of the pack continued on in full force to fight out the sprint. With her hand dangling abstractly by her side, Van Vleuten picked up her bike and rode through to the finish. Absurdly, even if her GC time hadn't been taken at the 3km marker as is customary in stage racing, she still would have finished the day with a 19-second lead. Her Giro Rosa defence was not lost, but it was over.