2020 Edition Preview: "Chasing Shadows: Remco and Eddy" by William Fotheringham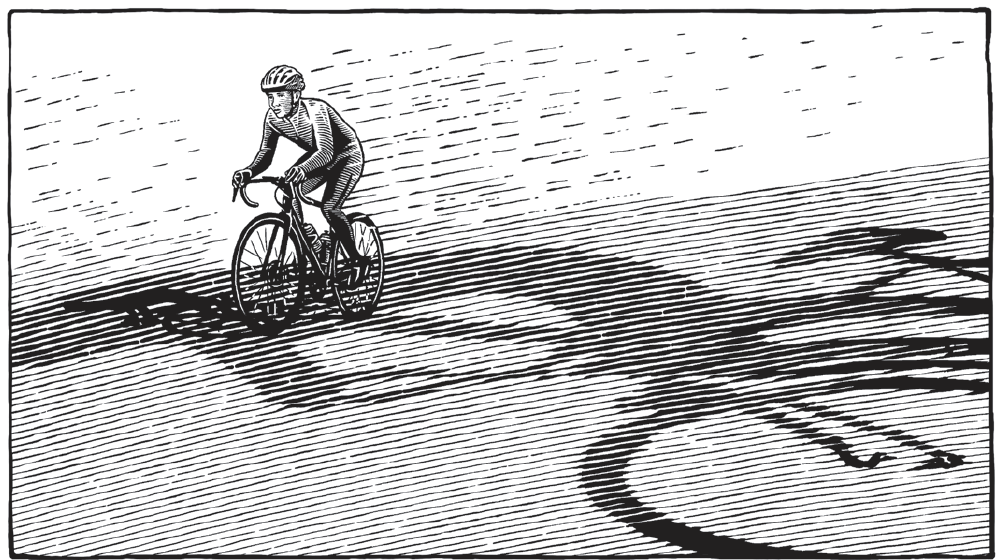 Exclusive to British Cycling Members, "Chasing Shadows: Remco and Eddy" by William Fortheringham is now available to read. To own a piece of history order your 2020 first edition in time for Christmas and receive a 10% discount and a free exclusive gold emblem bookmark when you use the code BCYCLING10 at checkout.
Offer ends 20 December 2020 10pm.
It was an almost despairing plea on Twitter from one of the best young cyclists in the world. 'Stop comparing please,' wrote Remco Evenepoel on 28 August. 'I'm not like somebody else, nobody is like me. Everybody is just him or herself and that should be respected. So please just stop it. Nobody can be a new version of something he or she has never been and never will be. Merci.'
Not being attuned to French, the Apple spell check on my computer changed the last word of his tweet to 'Merckx'. Which was ironic, and clearly not what Evenepoel intended, since his tweet was obviously an appeal for people to stop hailing him as the successor to Big Ted.
The 'curse of the New Merckx' is far from being a recent phenomenon. Speculation about the 'next Eddy' began before the Cannibal had even considered hanging up his wheels, which he finally did early in 1978. In the early 1980s Daniel Willems and Fons de Wolf were both tipped as the New Merckx. Neither went far and – for all that Fons was an outstanding racer who looked glorious on his bike – neither is now famous for anything. At the end of the decade, the late Claude Criquielion blighted his career by trying to position himself as a Tour de France specialist rather than the Classics man he clearly was.
Into the mid-90s, and it was Frank Vandenbroucke carrying the monkey on his back. VDB was an outrageous talent. You could argue that he looked better on a bike than Merckx, and his racing style was certainly worthy of the Cannibal. But sadly, his career fizzled out in a trail of drug scandals and one reboot after another. You can't claim it was entirely the pressure of expectation that killed Franck in the end, but it must have played a part.
Tom Boonen, interestingly, was never referred to as the New Merckx, because he was so obviously a Classics specialist and not a potential Grand Tour winner, and – guess what? – he had the most stellar career of any Belgian since the Big One. That's probably something the men surrounding Evenepoel are keeping at the forefront of their minds, as Patrick Lefevere and company know their Belgian bike racing history like few others. After all, Lefevere has seen most of the post-Merckx peloton and managed a fair few of them.
——
To what extent are the 'New Merckx' parallels mere hyperbole in the case of Remco Evenepoel? The two of them do actually have a fair bit in common. To start with, a background in sports other than cycling. It's well known that Evenepoel played for the Belgian Under-15 and Under-16 soccer squads; Merckx's background was more rounded, as he played a variety of sports of which soccer was one. The Cannibal's love of the round-ball game deepened later in life; he built friendships with the likes of Belgium's most famous footballer, Paul Van Himst.
The main similarity is their absolute precocity. Both won big as young riders; in fact, Evenepoel began winning big at a younger age. It's difficult to make direct comparisons because the opportunities available to young riders now have grown since the early 1960s, but you can point to Merckx's victory in the 1964 amateur world road race championship aged just 19, and Evenepoel's gold medals in both the junior road race and time trial when a year younger. Both come from towns in the Brussels periphery: Merckx from Woluw. St Pierre to the east, Evenepoel from almost the geometric opposite side – Schepdaal, in the west.
As an amateur, Merckx had a longer career than Evenepoel, turning professional in his 20th year, but that was still spectacularly young for the time. Merckx's first professional year, 1965, was the least successful until his abortive attempt to keep racing at the start of 1978. The main reason for that was that he was poorly managed; he turned professional with Rik Van Looy's Solo-Superia squad and didn't fit in. He was a sensitive youth, and Van Looy's dominant position in Belgian cycling meant he was not going to give some young upstart any favours, no matter how talented he might be. Merckx showed promise, but it was not until he went to the less rigidly structured Peugeot-BP team in 1966 that he truly blossomed.
Evenepoel looks truly precocious compared to Big Ted, who raced as an amateur against the wishes of his mother as she feared for his safety. Little Remco rode his first road race in April 2017. He turned professional just 18 months later, by which time he had rewritten the junior cycling record books. In 2018, he won 36 races out of 44, including the European junior title by 10 minutes after a 100km solo break. That was a ride redolent of the dominance Merckx showed as a professional; so too Evenepoel's double in the world junior time trial and road titles in Innsbruck that autumn.
In 1966, aged 20, Merckx won Milan–Sanremo and later that season he took the Tour de Morbihan (not a major stage race). Evenepoel, aged just 19 in his first senior season, landed the Tour of Belgium, the San Sebastian Classic, and the European time trial title, not to mention silver in the world time trial championship. In 2020, in spite of the limited opportunities in a season cut back by the Covid-19 pandemic, Evenepoel won every stage race he started: the Volta ao Algarve, Vuelta a Burgos, Vuelta a San Juan and the Tour of Poland.
Poland stands out, a first WorldTour stage race win sealed in a 50km solo breakaway on the toughest stage into Bukovina, with a 2-minute winning margin. That can only be described as worthy of Merckx, and it prompted this comment from hardened Flemish pro Thomas De Gendt:
'Hot weather today, but good to ride in the shadow of Remco.'
Stocky in build and gradually losing the puppy fat from his face, punchily powerful rather than fluidly stylish, Evenepoel races on 'feel', attacking where seasoned colleagues don't expect it. In terms of personality, he surfs unsteadily on a wave between confidence and arrogance. That's where most of the greats perch in their early years.
Hence the gesture in Bukovina after that solo break: he held a number 75 in his hand, explicitly to dedicate the win to his seriously injured teammate Fabio Jakobsen. Quite a contrast from the solo win at Lagunas de Neila in Burgos, where he brushed his right shoulder with his left hand and said this would be the trademark victory salute for every Evenepoel win. 'Not arrogance, but ambition,' said Lefevere. 'Twenty years ago, if he'd been so open about what he wanted to win, he'd have been called a dikkenek . Today, people just think he's motivated.'
Four stage races out of four was a Merckx-esque record, but the victories mattered less than the races he was going for. In his young career, Evenepoel has primarily targeted stage races, which is surprising for a rider from a country where only one race matters to most bike racers: the Tour of Flanders. Shortly after winning San Sebastian in 2019, Evenepoel said: 'I won a very hard race there, and I won the European time trial, and those are the tools you need to win a Grand Tour.' Similarly, when journalists asked him to outline his career goals, the three Tours were top of the list along with the Worlds and Olympics. Not the Ronde.
This, above all, is reminiscent of the young Merckx – or indeed, Belgium's last Tour winner, Lucien Van Impe – both of whom were obsessed with the Tour de France rather than the Tour of Flanders from a young age. Evenepoel even says he doesn't like cobbles. (This, for a young Belgian cyclist, is frankly shocking.) There's a simple explanation for this preference – and, again, the example of Merckx matters. Merckx was not steeped in cycling as young Flandriens usually are, because his upbringing was in Brussels not Flanders; young Evenepoel does come from a cycling family – his father was briefly a professional for Collstrop in the 1990s – but his early sporting life was in soccer. I'd suggest that he's come to cycling not because it's a way of life centred on the Ronde, but because it's a sport where he realised, he can do well. And if young Evenepoel isn't distracted by an emotional need to win the Tour of Flanders but has a more cosmopolitan outlook, he will go far.
——
However galling Remco Evenepoel might consider the constant Merckx references to be, it's not surprising that the comparisons are being made. In France, they've given up referring to promising young bike riders as the new Hinault. In Italy, you don't hear the next big thing described as the new Fausto Coppi or even the new Francesco Moser. If Belgium still has a Merckx fixation, that's understandable: no one in the sport of cycling comes near Merckx in terms of results or is ever likely to do so.
Yet there's another reason for the comparisons. Belgium – uniquely among European nations – has retained something that resembles its cycling culture of the past. There is still a substantial amateur calendar, and there are still local professional teams who are largely reliant on the domestic racing programme. It's not on the scale of years past, but local cycling in Flanders hasn't been decimated in the way that the amateur racing scenes of Brittany or Normandy have.
That part of Belgium retains something uniquely parochial and local in its spring Classics calendar, which – for all that international cycling fans may love the Tour of Flanders – is nothing like as multinational in its ethos as the Tour de France or even the Giro. In France and Italy, the press and public have given up hoping for a new Bernard Hinault or Fausto Coppi. There's a philosophical recognition that cycling has changed from top to bottom and it isn't going to happen.
In Flanders at least, the past still has some meaning in cycling. Cycling's history and its present are embedded deeply there. You can't travel anywhere in Flanders without being aware of that, be it a memorial to a local hero whose name is forgotten elsewhere, a bar that hosts the fan club of an obscure professional or a mural celebrating a former race. Hence the permanent fascination with Merckx – and thus with any possible replacements – which isn't likely to fade any time soon.
——
Ironically, the notion that Remco Evenepoel might be the new Merckx was put on the back burner in the weeks after that despairing tweet. Having won every stage race he started in 2020, the young prodigy ended his season on a roadside in northern Italy, suffering a pelvis fracture in a crash while very much in contention in his first Giro di Lombardia. It deprived the cycling world of the chance to see what he was made of in a Giro d'Italia that was set to be the most open edition for years.
As the 2020 Tour de France progressed to its climax, with Evenepoel recovering at home, it became clear that – far from being an outlier – the young Belgian was just one of a precocious new generation set to dominate cycling for possibly the next decade. The dramatic Tour win for21-year-old Tadej Pogačar was the most high-profile example, succeeding a 22-year-old Egan Bernal, but it was the tip of a youthful iceberg; Switzerland's Marc Hirschi, also 22, took a stage in the Tour as well as Flèche Wallonne and almost added Liège–Bastogne–Liège.
Evenepoel is far from alone even at Deceuninck-QuickStep. As the rebooted post-lockdown season showed, their Portuguese Jo.o Almeida (22), Italian Andrea Bagioli (21) and young Belgian Mauri Vansevenant (also 21) are also exciting prospects. With riders like Carlos Rodriguez (19) at Ineos Grenadiers and – more controversially – Quinn Simmons at Trek-Segafredo, it's clear that Evenepoel is far from alone in moving straight from the junior ranks to WorldTour level.
It's happening in the women's peloton as well, with British riders like Pfeiffer Georgi and Elynor Backstedt making exactly that move. And when it seems as if a rider like Tom Pidcock has been around for years by the time he reaches the ripe old age of 21, it's clear that something is changing. There are possible explanations for this. One is that in the post-EPO and blood-boosting era, team managers are more interested in youth and so there are more openings for energetic youngsters. More significant is the way the world has changed in the last ten years, becoming far more connected and with information more widely available.
Today's young cyclists know exactly what their peers are up to through social media; they know how their opponents train, race and eat, and they have access to the most up-to-date information. And there are plenty of parents ready and willing to invest heavily in the future of their offspring. This isn't always a positive phenomenon: peer pressure is an upward driver but it's a blunt tool that takes the fun out of cycling for many teenagers. For every Remco Evenepoel there will be dozens of disappointed youngsters worrying why they aren't as good and laying themselves open to mental and physical health issues. In the face of a cycling world full of increasingly precocious talent, the question of whether one cyclist is the new Eddy Merckx is important, but coaches and parents need to keep their eyes peeled closer to home, with welfare at the forefront of their minds.