PREVIEW: "A Pilgrim's Progress"- Daniel Friebe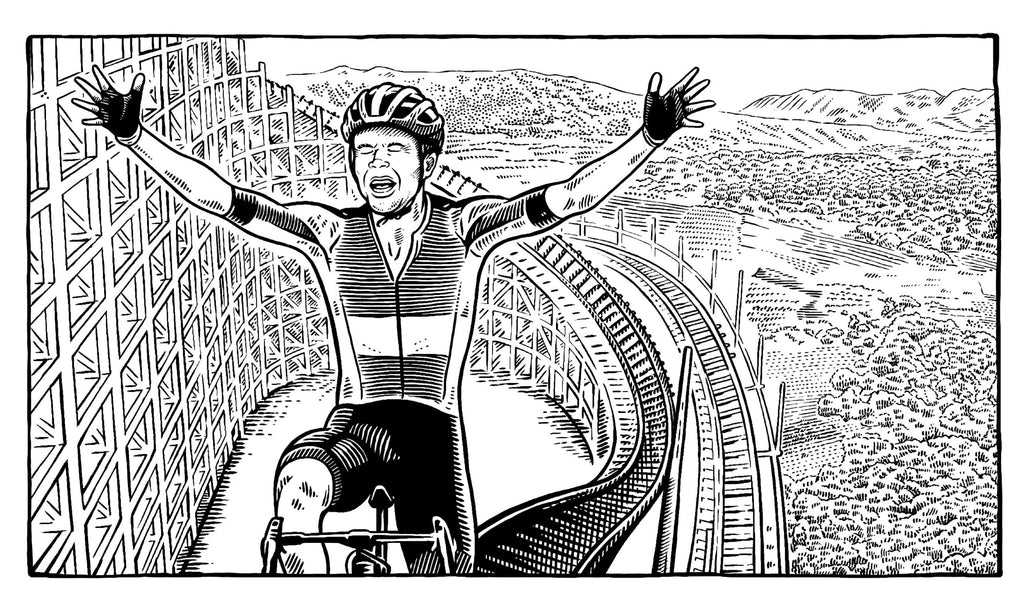 This is an extract from The Road Book Cycling Almanack 2021. To read the full contribution from Daniel Friebe, purchase your first edition in our shop. UK Velo members are welcomed to enjoy a 10% discount + complimentary Musette (RRP £7.50) with every purchase of The Road Book 2021. To claim, use the code: VURB21 at checkout. 
Burgos sits on the northern tidemark of what Spaniards call their Meseta Central or 'Central Plateau', the spires of its gothic cathedral rising to greet approaching visitors out of an oversized saucer of beige flatlands. The birthplace of El Cid, the home of Spain's most prized blood sausage, the cradle of General Franco's fascist regime. Despite other distinctions or claims to infamy, the city has not hosted the start of a Vuelta a España until this year. What the organisers have christened the Vuelta de las Catedrales rolls out from the very front step of the burgaleses' proudest landmark at the end of a scorching, topaz-skied afternoon on the middle weekend of August – and instantly pairs an ancient backdrop with a modern-day cycling tradition: Primož Roglič in the leader's jersey, as sure and snug as a bishop in his cassock.
The Slovenian is attempting to become only the second rider in the Vuelta's history to win three consecutive editions, after Tony Rominger in the mid-1990s. The Vuelta is an 89-year-old institution, a now self-confident paean to a sublime canvas of coastline, mountains and other landlocked wonders – and yet it is not usually classed among races that can define a career. Nothing, though, about Roglič's journey to this point has obeyed a familiar logic or timetable – from the ski-jumping to the transformation of his public persona in the last year. The modern Vuelta indeed almost allegorises his trajectory, with its stomach-lurching, theme-park stage profiles and perennial promise of redemption. If Roglič's entire cycling career is itself a wildly successful Plan B – undertaken because, as he has said, 'I realised I would never be the world's best ski-jumper' – the Vuelta has become his favourite indemnity. More importantly – or just romantically – the 2020 edition reinforced, or perhaps indulged is a better word, our childlike belief in plotlines generally only found in fairy-stories and sport-showbusiness, particularly the fable of dire misfortune followed by happily-ever-after.
This year, too, Roglič has decided to defend his Vuelta title only because of disaster at the Tour de France. 'When things go wrong I try to look at things neutrally, not positively,' he said before the Tour – an almost seminal Roglič-ism. After his crashes in France and eventual withdrawal after a week of racing, the approach has allowed him to reset, regroup and win gold in the Olympic time trial in Tokyo. What presents itself as an infuriating commitment to non-committal in the first week of Vuelta – the daily refrain of 'We'll see, huh?' or 'I don't know, huh,' delivered in the same playful baritone, mixed zone after mixed zone – is therefore not the vapid cliché it seems. Rather, we are hearing the same sincere and neutral voice with which Primož Roglič addresses himself every morning, readying himself for the day. It tells him that we really will see, that he really doesn't know, least of all in a sport as cruel as cycling has sometimes been to him in the last couple of years, in a race as unpredictable as this.
That fickleness reveals itself as early as day three, when Rein Taaramäe takes Roglič's maillot rojo on the Picón Blanco. It is a choreographed move by Jumbo-Visma, designed to discharge or at least defer responsibility, but it is still something of a surprise when Taaramäe wins from a large break. The Estonian is 34 years old, with a much richer palmarès than most probably realise, including another stage win at the Vuelta exactly ten years ago. There was also a 2015 annus mirabilis, when he triumphed precisely here, at the Vuelta a Burgos, and much closer to home, in the Arctic Race of Norway. Taaramäe has an intriguing alias – Vader, inherited from an arctic fox in an Estonian literary classic, not a Star Wars über-baddie – and soft, downturned eyes offering a window into a gentle soul. Thirteen years ago, aged 22, he announced himself as the closest thing pro cycling then had to the Pogačar of the day – which in truth wasn't very close at all – by escaping to a seemingly certain victory on the stage to Xorret de Catí, only to vaporise in the final 3km. I ask him to relive the moment on the morning of stage 4, and he laughs: 'I hadn't even read the road-book… I was so young, so naive.' Now neither of those things, he is under no illusions about how long the 'dream' might last. But, as Roglič keeps saying, 'We'll see, huh?'
That afternoon – Rein's first in red – is also a journey into a Spain that time has forgotten. Before Covid, the last (and, in fact, still ongoing) pandemic in this part of the country was called 'depopulation'. Stage 4 finishes in Molina de Aragón, a Moorish taifa before the Reconquista. Media outlets from all over the world have made what at first seems like a dubious claim: that the area surrounding the town is 'Europe's biggest population desert' with its 1.6 inhabitants per square kilometre. Census data suggests only parts of Lapland are as devoid of human life. The day of the biggest thing to happen to Molina in years is no doubt the worst time to get a sense of the problem, but the entrance to the town before and the exit in the evening – over the scorched prairies of what even locals refer to as La España vacía or 'Empty Spain' – offer some clues. Against the backdrop of a wider exodus from rural areas all across southern Europe, here especially it is frankly not hard to imagine why young people are fleeing. The temperature today edges 40 degrees, which is not uncommon in summer, but in winter it frequently dips to 10 below zero. This accounts for another nickname you won't find in the tourist pamphlet: 'the Spanish Siberia'. In some of the neighbouring villages, where today we see cries for help – work, subsidies, hope – scrawled on cardboard banners and bedsheets, there isn't a single inhabitant under the age of 18.
One thing the Vuelta's flying visit does bring Molina is a beautiful, poignant storyline. It is a year and 12 days since Fabio Jakobsen's horrifying crash at the Tour of Poland, and today his comeback seems complete as he wins in a Grand Tour for the first time since the final stage of the 2019 Vuelta in Madrid. Again it is Deceuninck-QuickStep, and again it is a sprinter back from oblivion, but the celebration is more restrained, less tearful than the one we witnessed in Fougères after the first of Mark Cavendish's four stage wins at the Tour. Jakobsen has said repeatedly that he now wishes to put the whole nightmare behind him. For months that was also what one of his lead-out men today, Florian Sénéchal, wanted to do. The Frenchman was the first to attend to Jakobsen in Poland – and indeed his quick thinking, propping his teammate's head and tongue in a safe position, may even have saved his life. Sénéchal had to have therapy to get over the trauma of what he saw that day, which may also explain why his is a measured, mindful joy. He says the ordeal has taught him that 'If you stay as mentally strong as Fabio, you can achieve anything.'
There are already many subscribers to that credo in the pro peloton, although to Primož Roglič it may seem a little too like wishful thinking. For now, as the race continues south-west towards the Costa Blanca, Roglič appears in unusually relaxed, even cavalier mood. His belly laughs in the morning mixed zone are one of the few sounds that can be heard above the deafening PA system or this year's looping official Vuelta anthem, '1932', a raspy, upbeat ode to more innocent times by Burgos's answer to Mumford & Sons, La M.O.D.A. Speaking of popular culture, Roglič's frivolity does not extend to an appraisal of the fly-on-the-wall documentary about the Movistar team that, even several months after the release of season two, is still a popular subject of conversation. 'Ach, I don't know, huh…' he says, rather confusingly, when asked whether he's at least familiar with the series. Finally he concedes that he 'might' have caught season one. He then sounds genuinely grateful for the recommendation of the even juicier latest instalment.
He may want to gather as much intel as he can, for the Movistar pair of Enric Mas and Miguel Ángel 'Superman' López have staked their claim as his most troublesome opponents. Last year it was Richard Carapaz who pushed him to the dying metres of the final mountain stage. One head of the latest Ineos Grenadiers Grand-Tour Hydra, this year the Olympic road race gold medallist is already out of contention after a week. Meanwhile Egan Bernal and Adam Yates seem a paler imitation of the Movistar chimera, which has suffered its own decapitation – of Alejandro Valverde, the victim of a crash and broken collarbone on stage 7 to the Balcón de Alicante.
The first true test of climbing comes at the Alto de Velefique. This glorious, hairpinned helter-skelter soars out of the dustbowl where some of the most famous scenes in Sergio Leone's Spaghetti Westerns were filmed. Damiano Caruso takes the stage in a long solo break while, behind him, Mas and Roglič ride clear, leaving López to mark and meddle with anyone who gives chase. The move restores Roglič to the red jersey, or it to him. Mas comes next, just 28 seconds down, Superman third, less than a minute further back. 'We have to plan to beat Roglič,' Mas will say when the race pauses in Almería the following day. Roglič replies, 'We'll see, huh?'
The next day the race sets out on its journey to Rincón de la Victoria from adjacent to the Mediterranean but submerged in a manmade sea – the Mar de Plástico or 'Sea of Plastic' to the west of Almería. This astonishing, visible-from-space, 30,000 hectare expanse of commercial greenhouses reportedly supplies enough fruit and vegetables to feed 500 million Europeans but is also nowadays decried as an environmental disaster and a hive of modern-day slavery. Many of the workers come from Africa, desperate, undocumented, and find themselves living in the shanties we glimpse tucked between the enormous hothouses. The growers who pay them a few Euros an hour supply major Northern European supermarkets. What some don't provide is access to running water, electricity or sanitation. The workers possess one 'luxury': bikes, though it's a jarring contrast when we see the Vuelta peloton off in Roquetas de Mar then a few moments later are driving through echelons of much darker-skinned, much slower-moving men on steel rather than carbon fibre. The smile on some of their lips nonetheless tells us these may be the best moments of their day.
Down the coast towards Malaga, the technicolour, million-dollar cycling we know has resumed with the latest exhibit of Roglič hyperrealism – a sort of shoulder-shrugging, now almost hedonistic resignation to the universe's kinks and caprices. With a break down the road – way down the road – he attacks, apparently on a whim, on the category-2 Puerto de Almáchar 20km from the line. He immediately opens up half a minute before misjudging a bend and skidding off the road – a karaoke cover of his crashes in Paris–Nice this spring, the 2020 Dauphiné or the stage to Como that may have cost him the 2019 Giro. After remounting, he returns to the group of his GC rivals like a runaway teenager sheepishly going back to the family home, and it's no time losses, all laughs and 'All good, huh' when he's crossed the line. The stage has been won by Michael Storer, his second successful breakaway of the Vuelta, and Roglič is also pleased to have given up the red jersey to Odd Christian Eiking of Intermarché-Wanty-Gobert Matériaux. Eiking has made headlines at the Vuelta once before – when his erstwhile team, FDJ, denied him the honour of finishing the 2017 race because he had allegedly got drunk the night before.
Mas, Yates, Bernal and the surprising Jack Haig start the next day with hopes pinned on a groggy Roglič but instead get a sobering reality check. It comes in the form a prototypical 'Roglification': a poker-faced mass cull in which the coup de grâce is delivered late, in the closing metres, almost apologetically, as though to preserve the victims' dignity. The valiant Mas follows him almost to the line, but more seconds have been lost. Mas and Movistar believe their chance could come in Extremadura and the Sierra de Gredos on the third weekend, where the climbs will be longer. That, though, reeks of an optimism that Roglič won't need – or that he won't entertain – and so it proves. Thus week two ends with Eiking still in red and the Slovenian dream-crusher lying in wait.
The race is now heading north to where a different Spain begins – greener, multilingual, denser in other more and less tangible ways. Carlos Arribas of El País provides reading material for the long decampment with a timely homage to the late José María 'El Chava' Jiménez, whose hometown, El Barraco, hosted the stage 15 finish. Arribas's article contains details that are made even more gut-wrenching by the mental jigsaw I've pieced together the previous day, waiting for the peloton to arrive on the Calle José María Jiménez, outside his old house and directly opposite one now owned by his sister and her husband, the 2008 Tour winner Carlos Sastre. Arribas writes that on the weekend when he died – when his body gave out, at 32, after several years of assorted excesses – El Chava was supposed to be packing to go skiing in Switzerland. His wife had booked the trip in the hope that it would bring some light relief after his months in a psychiatric clinic. Not that at least superficial levity, or humour, was ever something he lacked, as former friends and colleagues have reminded me over the weekend. Another journalist, José Carlos Carábias, tells me that his last conversation with Jiménez occurred shortly before he died, and focused on his regular visits to Burger King to buy fellow patients at his clinic their lunches. 'He said they needed some fun in their life, and those burgers were a little glimpse of fun and normality…'
The Vuelta will be decided on the Asturian mountains – where 'El Chava' often dazzled in the 1990s – if not at the Lagos de Covadonga on stage 17 then the following day at El Gamoniteiru. In the event, it is the first half of the double-bill that gives us a stage to savour and also the near-certainty that Roglič will complete his historic treble. Riding like a man who has nothing left to lose, Egan Bernal strikes out for glory on the Collada Llomena, 60km from the Lagos. Riding like a man who thinks he won't lose but is prepared to find out, Roglič follows Bernal and goes with him to the final climb. Had Bernal not fallen ill with Covid after the Giro and lost vital training weeks, this may have been the defining duel of the Vuelta. Instead, even here it turns into a mismatch, with Roglič powering away to not his most characteristic but maybe his most memorable victory.
With a lead of over 2 minutes and a 33km time trial still to come, it would take something heroic – or a comic-book hero – to stop him now. Alas, it won't be Superman, for all that the Colombian brings Movistar their first stage win of the race on El Gamoniteiru. At this point he also lies third on General Classification, 35 seconds clear of Jack Haig. The last road stage of the Vuelta in south-west Galicia, though, will become a study in partnership dynamics – of harmony between Haig and the other GC revelation of the race, Gino Mäder, and dysfunction between López and Mas or at least López and Movistar. The race blows apart on the eucalyptus-cloaked hills overlooking the Atlantic, again ignited by Bernal, and Mäder and Haig suddenly find themselves closing in, respectively, on the white jersey and López's third place overall. López is stranded in the second group, already in free-fall down the virtual General Classification, when word reaches the Movistar staff members waiting a few yards from me at the finish that he has simply climbed off his bike. There will be no pictures for over an hour. Barely any details will crackle over race radio or even Movistar's own intercom if Mas is to believed. But the rumour, as much as it seems odd to refer to a mid-race occurrence in a globally televised event as such, turns out to be true. 'Some kind of psychological crisis,' is teammate José Joaquín Rojas's fag-packet diagnosis when he arrives in the mixed zone. A failure to look at things neutrally when they began to go south would be another explanation – presumably Primož Roglič's.
The following evening the Vuelta ends its voyage, its odyssey, why not its pilgrimage, in the shadow of Santiago de Compostela's magnificent cathedral. This is also where around 300 people every day finish their 'Camino de Santiago' – now one of the world's most popular spiritual or religious journeys, an 800km walk from the French Pyrenees in its most common iteration. The pilgrims are easy to spot, with their wooden poles, scallop shells hanging from their rucksacks – a symbol of the Camino – and their gaunt but contented faces. I notice three resting, reflecting on the cathedral steps – two students from northern Italy and their friend from Greece. 'It starts as an adventure but becomes more of a spiritual journey,' they tell me. 'I've proven to myself that I can do anything now,' one of them adds.
All of which to Primož Roglič probably sounds like forgivable hubris. After three weeks of the future tense – his least favourite – finally in Santiago he can conjugate verbs in the past. 'It was super nice, huh?' Another Vuelta that went according to plan – just his latest, tentatively, modestly made plan B.
UK Velo members are welcomed to enjoy a 10% discount + complimentary Musette (RRP £7.50) with every purchase of The Road Book 2021. To claim, use the code: VURB21 at checkout.