Double Dutch: The Rider in Second Place- Annemiek van Vleuten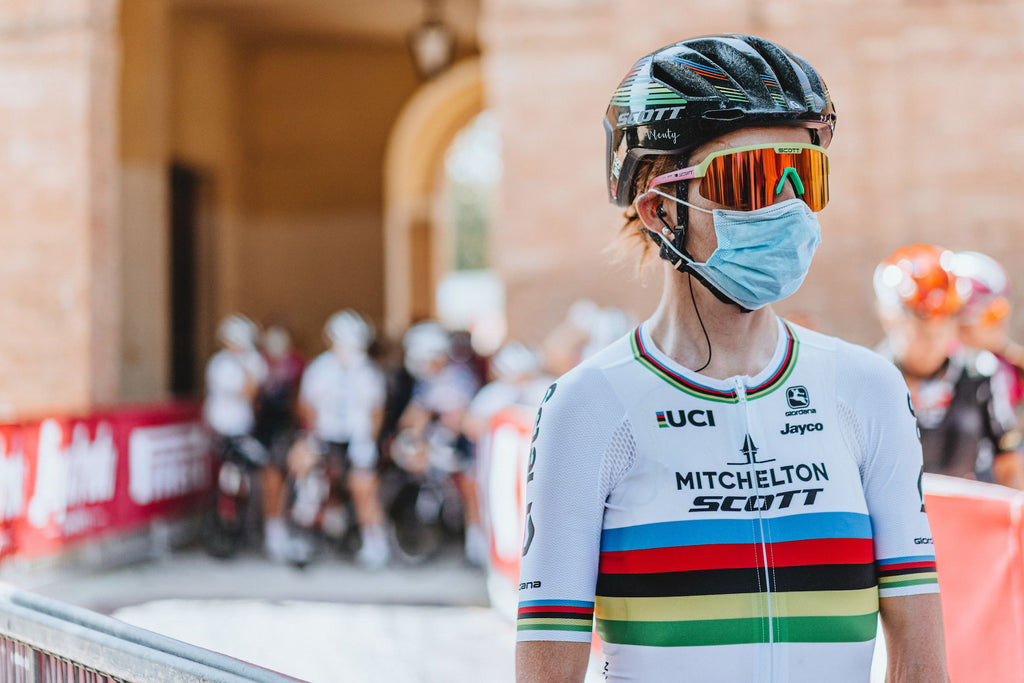 British Cycling Reader Offer: Enter RBBC20 at Checkout for Free Delivery and complimentary RB Exercise Book (RRP £10). To receive content like this, be first to hear about new products and competitions, sign up to The Road Book Society at the bottom of this article.
It was the first time Annemiek van Vleuten had been seen at the front all race and, for the first time in an imperious year as world champion, she was no longer in the rainbow bands. Climbing alongside what was now a select group of three on the Cima Gallisterna in the 2020 World Championships, her most distinguishable feature was the cast that enclosed her left wrist. She had fractured it 11 days previously but would not now let it end her title defence before it had begun. Bouncing out of the saddle, she accelerated, teeth gritted, neck strained, her bike half-collapsing under the violence of every pedal stroke. Other champions fell back from her wheel. The onslaught was brutal, even for Van Vleuten herself.
As she approached the top of the climb, riders scrambled to reach her but were left floundering, all but Anna van der Breggen. Van Vleuten's closest rival and national teammate had already picked up two major wins that week in the Giro Rosa and the World Championships time trial. Now she was going onwards for another, tapping out her metronomic rhythm as she eased past her compatriot. Van Vleuten kept going, flailing her bike with a silent fury. Van der Breggen's gaze was already fixed on the unseen finish line beyond, while Van Vleuten's eyes searched downwards across her arms and legs and handlebars, probing for answers. Wracked with pain, heart empty, trapped in the crosshairs of individual glory and team loyalty.
Van der Breggen won the World Championships without challenge. She became the first rider to take both the road race and time trial titles at one World Championships since Jeannie Longo. Days earlier, she had won the Giro Rosa for the third time in her career. But such spectacular achievements will be forever marred by two invisible asterisks to those who watched them:
* defending champion Chloé Dygert crashed out of the ITT while holding the leading time
* maglia rosa Van Vleuten crashed out with a broken wrist with almost two minutes' advantage and two days to go
It is not that Van der Breggen did not deserve these victories. She did. It goes without saying that the first challenge for any hopeful champion is simply to still be on your bike at the finish line. However, even as a rider who has claimed all the major titles – Olympic, World, European, National – only ten days earlier no one would have looked past Van Vleuten, such had been her all-encompassing dominance in the rainbow bands this season.
And I mean all season. The worldwide pandemic disrupted the usual racing rhythms and condemned everyone to varying degrees of inertia, anxiety and self-reflection inside their own four walls. For athletes, motivations changed, form evaporated, and some were burdened with profound realisations that would be impossible in the race-and-repeat nature of their occupation. Despite all this, Van Vleuten's position on top of the podium went unchanged. Her first win in the rainbow colours that she had claimed at the Yorkshire World Championships came in her very first race, back in February, overcoming a late mechanical on a slushy, muddy day at the Omloop Het Nieuwsblad. On the resumption of the racing calendar, her unbeaten run continued with a trio of Spanish races and then Strade Bianche, where she attacked from the third group on the road and won. In a sport where some 150 riders take the start every time, navigating millions of infinitesimal decisions, balancing weather and terrain, luck and risk, to be unbeatable is almost absurd.
On initial impressions, Van Vleuten is just as formidable off the bike too. She doesn't suffer fools gladly, if at all. Wide, round, ice-blue eyes framed by mascara-black eyelashes give her the look of a jaguar preparing for ambush. Serene, confident, sharp as a claw. I've watched packs of underprepared journalists turn to deer, giddy and directionless as she gives pause to their question and narrows her eyes. It's a fate I've barely avoided myself.
She trains relentlessly at altitude, most often alone, following a schedule that even Lizzie Deignan commented would leave most, including the former world champion herself, 'six feet under'. Multiple Classics champion Elisa Longo Borghini famously described Van Vleuten as 'an alien'.
British Cycling Exclusive Reader Offer: Use code RBBC20 at checkout for free delivery and a free Road Book Exercise Book (RRP £10). For more content like this and to be the first to hear about future editions and competitions, sign up to The Road Book Society at the bottom of this article.
And yet, no one looks more human on a bike than Van Vleuten. It never looks easy, even when the winning margins are huge. The suffering is always just under the surface. Even on her way to her 2019 World Championships victory, thoughts of futility, of bodily weakness flickered through her mind: 'They're killing me, just to play a game… I'm out in the open wind here, dying by myself.' She won by 2 minutes 15 seconds.
Nowhere was this balance of frailty and capability more apparent than on stage 2 of the Giro Rosa, on a route taking in some of Tuscany's famous gravel roads, albeit those that would be considered too precarious for Strade Bianche. With 15km left, Van Vleuten leads a sparse group of favourites towards a final uphill stretch of white road. Springing out of the saddle, handlebars swinging wildly from side to side, she accelerates away. As the cameras readjust, she emerges, a lone silhouette, cutting through the plumes of dust that rise on the horizon, hunched over, rocking her bike with arms bowed, like a gunslinger in a spaghetti Western.
She pushes on, as motorbikes get stuck in rivets, loose stones scatter under her wheels, fans evaporate into a grey haze. Her advantage stretches from 12 to 24 seconds. And then, she's off. Off her bike. She topples clumsily to her left but manages to free her feet from the pedals. And then she stands up, machine to her side. All at once, she is no longer a part of this perfect mechanical system of cogs and levers. No longer is she the driving force that turns the pedals, that turns the wheels.
There she stands, for mere milliseconds, an amalgamation of all those setbacks and lessons and successes of the past, with the maglia rosa drifting away from her grasp. She needs to get to that finish line and, if only for a few moments, her bike is superfluous. So she runs, barely a run, dragging her bike up the hill. Hunched over, feet slipping, hardly making progress. A neutral service mechanic tries to give her a push as she remounts and in his eagerness sends her floundering over the loose gravel, weaving sideways across the road she should be following. Another push at least sends her vaguely in the right direction, but only after a few pedal strokes of her own does she manage to clip back in. By now her advantage is all but gone, Van der Breggen is making up ground relentlessly, unfalteringly and has her regular rival back in her sights.
Van Vleuten goes onwards, crunching over the gravel and back onto the asphalt. Even here she looks as if she is treading treacle. That's how it always is with Van Vleuten. When you watch her on any terrain, in any position, you see all the full-bodied agony that goes into winning bike races. Face ashen with dirt, shoulders slumped, head lolling, mouth falling open into the shape of a breathless scream.
She isn't like those bygone heroes you find on a collector's cigarette card, gliding so elegantly with brandy in their bidons and a tin of pomade in their jersey pocket. Those smooth-wheeling types so perfectly connected to their bicycles that it is almost impossible to imagine they were ever created separately. Van der Breggen is one of those (minus the brandy and pomade, of course). Her gaze is always fixed, shoulders and hips always aligned whether she's winning or losing, attacking or sheltering. The motions of her accelerations are almost imperceptible, so perfect is the transfer of power. It's only when you see the metres of road rapidly unfurling behind her like ribbons from a magician's hat that you realise she is going a little harder.
With Van Vleuten, on the other hand, it's never clear if she is wrestling with her bike or with herself, or both. This is the athlete who once said: 'I don't like to suffer, but I'm good at it.' As close an approximation to the whole of the human condition as you're ever likely to get in the pro peloton.
Van Vleuten made it to the finish of that dramatic Giro stage still 1 minute 16 seconds ahead of Van der Breggen. She didn't dare raise her hands in celebration until after the finish line. For her efforts, she took the maglia rosa and a commanding lead in the General Classification. A few days later, though, and it came to nought. By stage 7, Van Vleuten was leading by almost two minutes on GC. An innocuous touch of wheels in the final kilometre took her down and she broke her wrist in the ensuing tumble. The rest of the pack continued on in full force to fight out the sprint. With her hand dangling abstractly by her side, Van Vleuten picked up her bike and rode through to the finish. Absurdly, even if her GC time hadn't been taken at the 3km marker as is customary in stage racing, she still would have finished the day with a 19-second lead. Her Giro Rosa defence was not lost, but it was over.
This incident was indicative of so many of the misfortunes that have beset Van Vleuten during her career. Being so close and so far. For many casual observers, these setbacks have almost become as closely associated with Van Vleuten as her victories.
A life-threatening crash on the sure path to gold at the 2016 Olympics left her with 'mental demons' that have haunted her since. Could she finish the job? Would victory always be taken out of her grasp? History has a way of repeating itself. At the 2018 Innsbruck World Championships, she was on the startline as outright favourite. She hit the ground in a pile-up and broke her knee. For 90km she rode that broken knee to the finish, still finishing seventh. But she wanted gold.
It's no surprise that on the 80km solo slog that took her to her first-ever World Championship road race title a year later, her mind was restless. She could see history beginning to turn on her again: 'I'd started to believe in it a little bit – that it could, maybe, just be possible to win… As soon as the thought came up in my head that I could be world champion, I pushed it away.' Of course, she did win. She did become world champion.
All the phenomenal wins as world champion were conjured by a rider who has stopped history from defining the limits of possibility. In the Nafarroako Klasikoa she caught the lone leader on the descent, flew straight past her and won. In Omloop Het Nieuwsblad she dropped her chain just before the longest cobbled section but chased back and won. In Strade Bianche, she was several groups behind the front of the race when she attacked and, well, won.
Until very recently she has been reminded incessantly of her past bad fortune. When she fails, her failures are so public, so stark, so gruesome. This is not the case with every athlete. Search for Van der Breggen's injury history and it will return no results. Marianne Vos has suffered a number of serious injuries in her career but these have mostly played out at home or in the back of an ambulance. The images of Van Vleuten's downfalls, however, are vivid and visceral; an exhausted Van Vleuten on a wheelchair surrounded by medics on the Innsbruck finish line, or Van Vleuten lying with her head in the road, crumpled across a concrete kerb, or a maglia rosa flecked with blood. These images live long in the consciousness of those who see them. They are images of a body mangled and distorted, of flesh ripped, of the sacrifices made in the pursuit of glory. In glossy winning photographs it is not easy to see the human behind the helmet and sunglasses, under the commercialised spaces on their clothing, on the expensive, carefully calibrated machine. But when you see Van Vleuten fail, you see the physical trauma of it all. You see the frailty of even the strongest of human bodies. You see a human who has given it everything, perhaps even too much.
There is no better example than that fateful day at the Rio Olympics. Van Vleuten had proven herself to be the day's best climber on the mighty Vista Chinesa, which came as a huge surprise to Dutch leader-elect Van der Breggen. Then, descending at high speed down to Copacabana Beach, almost certain of gold, Van Vleuten misjudged a bend and was catapulted headfirst into the concrete pavement. Her mother thought she was dead.
It's no wonder she is asked about that day so often. She might be the only person there who doesn't have a traumatic memory of it. Van der Breggen was one of the chasers who passed Van Vleuten, still contorted on the roadside, unmoving. There were no radios for updates and Van der Breggen also feared the worst. Eventually she refocused, spurred on by the desire to honour Van Vleuten's endeavours and took the Olympic gold.
It was also a portentous day for another reason: it was the first time the world had witnessed the rider Van Vleuten was to become – the rainbow-striped maverick of the 2020 season.
She had been primarily a Classics rider, recording strings of top-ten finishes with the occasional big win like the Tour of Flanders. She had been generally overlooked on a Rabobank team that boasted Van der Breggen and Vos in its ranks, and had endured a difficult year at Bigla. Taking a trip to Rio de Janeiro in November 2015, she set her heart on making it into the Dutch squad. Back then she was not thinking of victory. She only wanted to make the cut. But to support likely Dutch leader Van der Breggen on such mountainous terrain, she would need to be a far better climber.
A few months later, I was at the Energiewacht Tour to gather what were meant to be expansive, atmospheric descriptions of the mythical Mur de Huy – centre point of Flèche Wallonne – from some of its former conquerors. As runner-up of the last edition, Van Vleuten was on my list. 'You don't want to talk to me,' she said. Those eyes narrowed. I began to sink into the floor. 'I'm not a climber.' Or that's what I think she said; the blood was beating pretty hard in my ears by this point. In hindsight, I had been right to ask her about that famous, vertiginous climb. She might not have trusted it herself, but her transformation had already begun. Three weeks earlier she had managed to follow the peloton's finest climber Emma Pooley up the hills in Trofeo Binda. Her finishing position was unremarkable, but that had been a breakthrough.
Her progression has continued ever since. She is without doubt the peloton's best climber, to such a degree that the harder or longer the race, the better she performs. What may surprise some is that her approach to training and preparation is not strictly scientific. She credits long-time coach Louis Delahaije, who has been there since her Rabobank days, with helping her become more intuitive. There isn't an ultimate goal; her mission is to get the best out of herself, every day to be a little better than the day before.
For her rivals, motivation is less internalised. Van der Breggen has said on several occasions that if she can't win, then there's no fun in competing. Vos, despite having the weightiest palmarès of anyone, just loves racing a bike. She loves winning the little races as much as she loves winning the big ones.
Van Vleuten's inward approach is understandable for someone beset by injury, who has always come back stronger. Lying in a hospital bed, it makes sense to focus on those little improvements, the little things that can be controlled. But to find those personal improvements every day when you finish in the top five in every race you start? What then? Well, in 2020 we saw the answer. She practically won everything.
The path to personal improvement is riddled with challenges, none more so than the inevitability of an ageing body. Van Vleuten has defied these expectations so far, in 2020 and at the age of 38, completing her most successful season. Fans salivate over the plummeting ages of champions in the men's peloton – Evenepoel, Hirschi, Pogačar – boys who celebrated the turn of the millennium in nappies or in the womb. In the women's scene, conversely, the best riders of the moment are getting older. Eight of the top ten at Strade Bianche were over 30. By the time Van Vleuten completes her current contract with Movistar, she'll be 40 years old.
Yet in racing terms, Van Vleuten is still young. She only began cycling in her final year of university after being sidelined from playing her beloved football because of a leg injury, and took it up specifically to counteract what she called the 'student beers'. If you've ever seen Van Vleuten down a pint on the podium of Amstel Gold Race, you'll know she certainly hasn't lost her love for beer.
She lined up at her first race on a fifth-hand bike in 2007 at the age of 25, taking a break from her office job to do so. At the same time, Van der Breggen had already been honing her race skills for ten years, having started cycling competitively with her brothers at seven years old. At the same age as Van Vleuten, Vos had already won two World Championships, 13 Giro Rosa stages, two maglia rosas, four Flèches Wallonnes and an Olympic gold. This might go some way to explaining the energy that Van Vleuten still brings to racing. But a lot of it has to do with the fact that she has a boundless joy in what she does. Followers may hear about long days and lengthy training blocks and sleeping at altitude, but that's what she likes. She recently swapped Tenerife for Colombia, not for the extra 700m altitude but for the new adventure: the opportunity to learn a little Spanish, drink new coffee and admire a different sunset. On these many, many kilometres on her bike, she stops where she wants and does what she likes. She takes long lunches in the mountains, even if it lessens the benefits of her training. For this champion, the balance is in not being the perfect cyclist but in being the best cyclist that you want to be.
When we watch Van Vleuten going to her limits, we are reminded that what we are watching is a human endeavour. A huge and agonising one. Van Vleuten's successes this season aren't the sum of thousands of little cogs, each meticulously calculated and calibrated. There is no hiding from the pain and glory, or sometimes from the spit and sweat and blood and broken bones. Time and time again we've seen that she is fallible, even when she is undefeatable. She's someone who likes watching football matches with friends in the evening and then obliterating records on the Izoard the next day. She wears earrings gifted from her late father for good luck even though she wins every race she competes in. She may not be the best cyclist but she's the best human-on-a-bike that you'll ever find.
Rose Manley