"Some of my earliest memories"- Quinn Simmons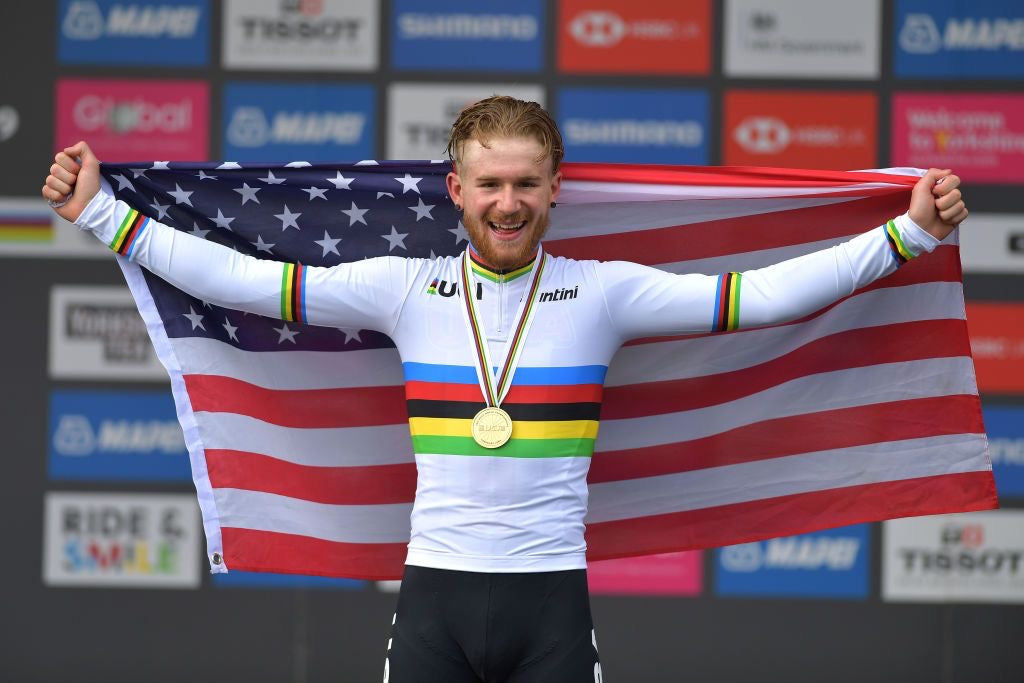 Cast your minds back to a simpler, albeit rather wetter, time in late September of last year. We're in Harrogate, Yorkshire, and a ginger-bearded youth, round black studs in both ears, an American flag draped around his shoulders, has just soloed across the finish line almost a whole minute ahead of his nearest rival to win the junior world championship road race.
The young man in question is eighteen-year-old, Quinn Simmons, and in just a few hours' time, it'll be announced that he's signed with WorldTour team Trek-Segafredo, skipping the U23 ranks altogether.
Back in the present day, Simmons is almost three months into his first year as a professional cyclist – he is, in fact, the youngest ever WorldTour pro, a status that is featured on his Instagram bio, but he does not take it for granted. He might be a junior world champion, but he's also a neo pro with a job to do.
His journey to the pro peloton was even shorter than it looks at first glance: he'd only been road cycling seriously for a little over eighteen months when he won the rainbow bands. In many ways his meteoric rise was inevitable considering his upbringing.
With Mother's Day just around the corner in the UK (Sunday 22nd March), I spoke to Simmons – who had been preparing for the spring classics but is currently back home in Durango, Colorado – about his active childhood, his path to cycling, and, of course, his mother.
Could you tell me a bit about your childhood?
I think being from Durango, my hometown, we're pretty stereotypical. So we did lots skiing, riding mountain bikes, playing hockey. It was always super outdoorsy, camping, all that sort of thing. There was never too much of the mainstream sports, but a lot of time outdoors.
And you competed in skiing before you got into cycling?
Yeah, when I was sixteen, I went to the world championships. I was on the team with my dad, and we went together. But other than that, there was not too much competing, I was just recreation focussed. I also played a lot of hockey when I was younger, my elementary and middle school years were more built around that. And then I slowly transitioned to the bike when I was seventeen.
Simmons's mum (or 'mom') Holly and dad Scott are a big reason for where Simmons finds himself today. They would encourage him and his younger brother Colby (2019 junior national criterium champion) to get outside in the open air from a very early age.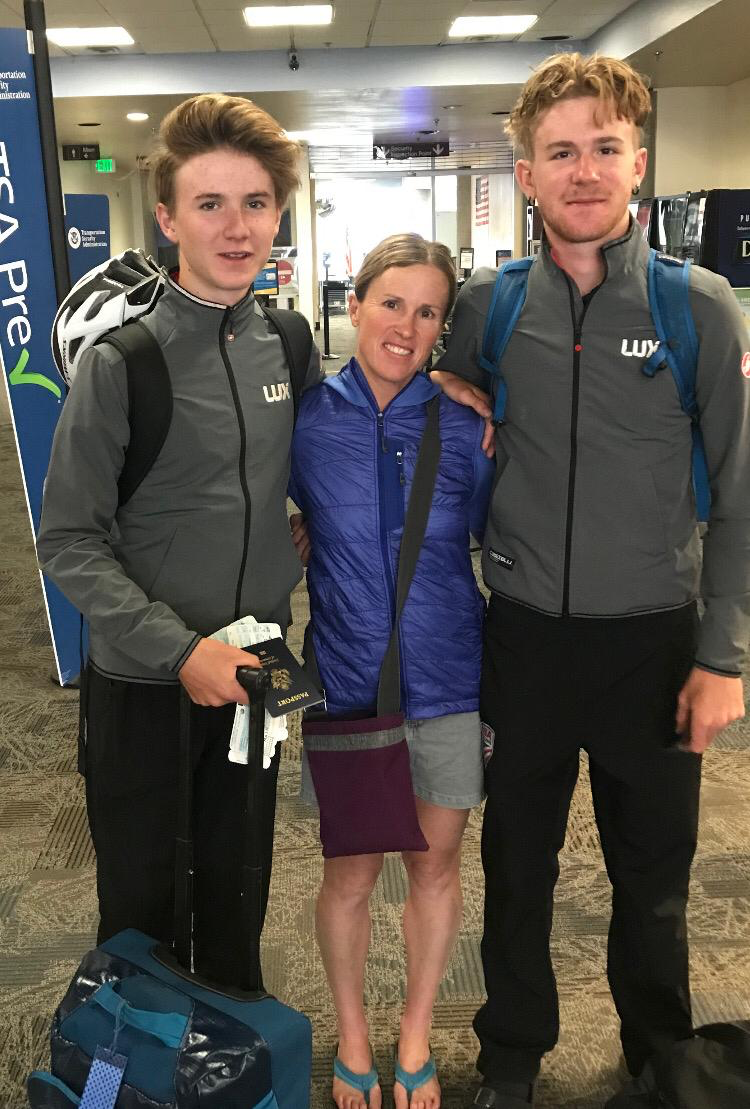 From the left: Colby (Brother), Holly (Mother), Quinn
How would you describe your relationship with your mum?
She's always been super motivated herself, and always the one to take us skiing, mountain biking – some of my earliest memories are riding a bike alongside her while she was running. She was always pushing us to be outside with her and then later she'd always be there at our races.
Did she race at all herself?
Not too much. She did a little bit before we were born, but afterwards it was more just being there to support my dad when he was ski racing, and for me and my brother when we were racing bikes.
It sounds like no one in the Simmons family was prone to specialism. Though his mum was a passionate runner and dad a top-level skier, all four would do anything so long as it meant being out of doors.
What do you think she did differently, if anything? Maybe a different approach that you might have particularly benefited from?
I think I definitely just benefited from her always forcing – not forcing – just making it not really an option that we were outside exercising, often out of our comfort zone. Even when I was super young, I have memories of skiing way over the ability of a six-year-old and if we couldn't make it, she'd just pick us up and carry us down the steep part, then we'd start again. It's all little things like that. All the things that have made me an all-round athlete. You can't really grow into that unless you started when you were really young.
It's a nice contrast to the inside lives lived by many young people these days.
Yeah, that was definitely one thing that me and my brother never really had. I never did the video game thing or anything like that. I was always pretty busy. At the time it might have annoyed me a little bit but I'm happy about it now.
And that being out of your comfort zone from an early age, that will only help with your cycling career
Yeah, for the classics you just need a really good tolerance to pain. I don't know if that's the right way to say it, but it's all about pushing yourself to extremes.
Has it crossed your mind what you might have ended up doing had it not been for the outdoor lifestyle your parents encouraged, or perhaps had you not been quite such a natural on the bike?
Well, when I was ten I was pretty convinced I was going to be a professional hockey player, and when I was a little older, I was convinced I was going to be a professional skier, and now it looks like I'm going to be a professional bike racer. But outside of those three things I never really thought about it too much. Through school I was never really into anything, it was always going to be something more physical, more outside.
And what do you do when you're not training on your bike? What do you like to do in downtime?
It's been a change this year because with pro racing you have to go all-in, fully committed, so when you're living over in Europe, you're pretty much just training or resting, and getting ready to race. But now that I'm back home and there's no racing I've been skiing a bit, I'll probably go climb some, just reset. And wait until we can start properly training again.
Finally, what lessons do you think you've learned from your mum?
If you go super-literal, she taught me to ski, how to ride a bike and everything. But a lot of what I learned is just about living a healthy lifestyle. She's always been concerned about her health just as much as we are. Eating healthy meals, how to push yourself in training, staying active – it all gave both me and my brother an active healthy lifestyle. It's not really something where you think 'well, I'm being healthy', this is just how we live.
I've actually got a pretty funny story that I've been threatening to tell people…
Go on!
I forget how old I was, but I was really pretty young. There's a bike path that follows the river in town here and most days mum would go run, sometimes pushing me in the stroller. Eventually I got old enough to ride next to her on the little bike, and then one day, the way I remember it is that it was really cold, I don't remember if there was snow but I remember being really cold, and I just decided I'd had enough. She wouldn't let me stop, but I was a little kid so I started crying on the side of the road and she was determined to finish her workout, so she just left me there. Then the cops got called!
She came back before the cops showed up, but we had to sneak around the parking lot… I think that was my first time I learned not to quit on a workout.
From the left: Colby (Brother), Scott (Father), Quinn, Holly (Mother)
Hopefully we'll see Quinn Simmons back racing with the rest of the pro peloton before too long, and in the meantime, Happy Mother's Day to all, in the cycling world and beyond!
Kit Nicholson