"Strade Bianche 2019" - Ned Boulting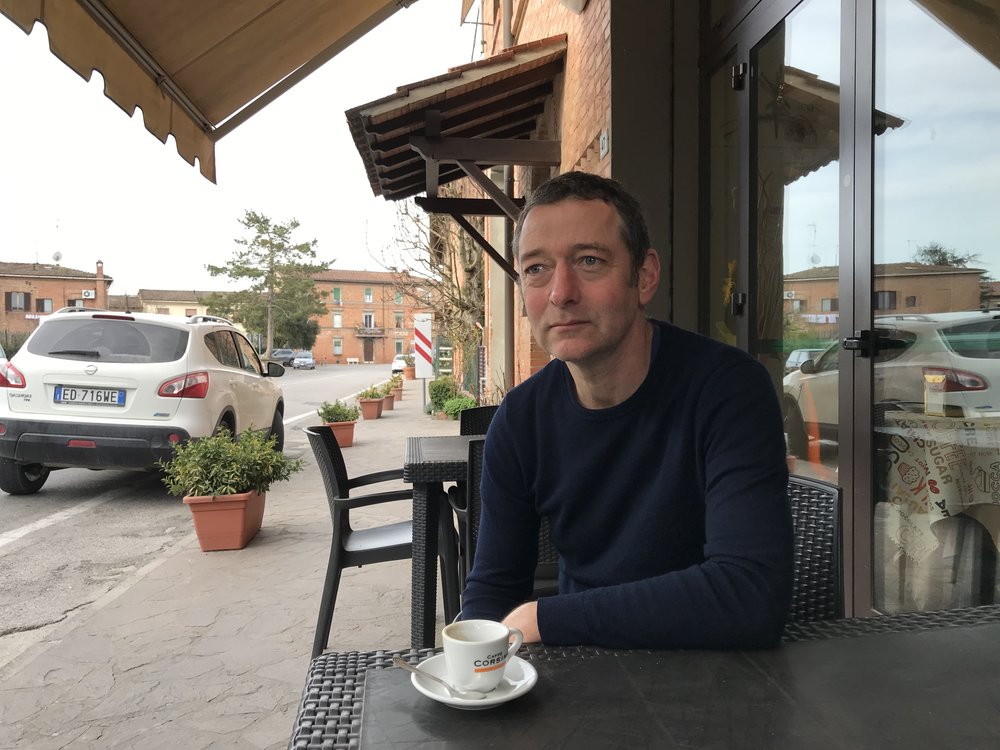 Road BOOK RETROSPECTIVE
Ahead of tomorrow's edition of Strade Bianche, have a read through Ned's experience covering the race way back in 2019.
Never have I felt less Italian than I did in Siena yesterday morning, weaving through the crowds of happy Tuscans who had come out to celebrate the arrival of three hundred men and women racers to their glorious city.
Never have I been so conscious of the short comings of my two dozen words of Italian, nor more self-conscious about the shoddy utilitarian nature of my footwear (Dr Martens), the basic nature of my coiffure, a wristwatch that cost me a fiver, or my glaringly evident lack of Italian-ness. I marvelled at the puffa-jacketed throngs, out to enjoy the spectacle, against a backdrop of old Siena whose renaissance skyline is at once familiar and overwhelming.
 Piazza del Campo, Siena
I don't know what I was expecting from my first visit to Strade Bianche, but what I got was an even more intense hit than anything I had been prepared for.
Perhaps it's because I was reluctant to admit that, for once, the marketing hype and the reality of the race were in sync.
A natural sceptic, I am routinely wary of the bold claims made on behalf of this relatively new classic with its overuse of the word "iconic" and "beautiful". Surely the whole kaboodle has got to be a bit rubbish, somewhere along the line.
I have grown accustomed, over recent years to cycling's Twittersphere breaking into undignified eulogies about this race, repeating and retweeting with tiresome uniformity the generally accepted thesis that Strade Bianche, with its aformentioned "beautiful" and "iconic" white roads, winding along cypress-lined avenues, over hill and Tuscan dale, is the epitomy of Italian class and soul. I wanted, in short, to dislike it. If I am honest, there's a mean bit of me that needs to tear down the tall poppies. I blame Brexit.

Pink signs and proper racing
Yet, here I stood, having just watched Marianne Vos, Annamiek van Vleuten, Cecilie Uttrup, Marta Bastianelli and the rest of the best of the women's racing scene, roll off into the distance.
Now I was surrounded by the team buses of the men's World Tour, plus the assorted Italian invitees, pulling up and disgorging their millionaire freight. Geraint Thomas appeared, and pushed his way slowly and good naturedly though hordes of fans, without a minder in sight. But the noise that greeted the trio of his Italian team mates, far outdid the cheers the Welshman received. In particular, and mystifyingly, young Leonardo Basso; a rider whose exact purpose I have yet to ascertain. He was almost mobbed.
Other riders, fresh from the Emirates, training camps in the Canary Islands or the opening salvoes of the Belgian cobbles, seemed just delighted to be at such a wonderful occasion. There was none of the fretful tension of a Grand Tour about them; just the anticipation of a day on a bike which stands alone in its distinct characteristics, being neither a prelude to nor a postscript after any other block of racing. Strade Bianche simply IS.
Lachlan Morton mooched around, like the ultimate cycling hipster he is, wearing a rather silly EF floppy hat, but getting away with it. Nathan Haas rode his bike through the crowd at a snail's pace, practising his track stand, and chirping 'Scusa!' as he went. Michael Valgren stopped cheerily for a chat with some fans, 'Of course I want to win.' Giovanni Visconti, mirror shades on, and stubbly jaw set defiantly firmly, found a tiny gap between two team buses and disappeared from view, while, in the opposite direction, my eye was caught by Antoine Duchesne's magnificent Canadian national champion's jersey.
It's not often that I get to see the start of races, since my working life these days centres around a commentary position at the finish line. But here I had the chance to take in the sights and sounds of Strade Bianche setting off into a quite perfect sunny Tuscan morning, before my colleague Matt Rendell and I drifted slowly back to the Piazza del Campo, where we took up our position at the microphone, waiting for live pictures of, first the Women's and then the Men's races.
I knew that things were going to be a bit different from the norm, when one of the RAI sound engineers showed up with a plate of Tuscan salami and cheese and a vast glass of red wine, which Matt soon stuffed his nose into.

Rendell as Keith Floyd
The women's race was well up on the fastest schedule, given the dry race route. When we finally got to live pictures, there were barely twenty kilometres remaining, which was a big shame. I expect that lessons will be learned for next year.
As soon as we could pick out some riders through the clouds of chalk dust being kicked up by the motorbikes, it was evident that a very select group had ridden clear. There the World Champion Anna van der Breggen, with two teammates, including the winner of Het Nieuwsblad, Chantal Blaak, the European champion Marta Bastianelli, the charismatic Cecilie Uttrup, Ruth Winder, Janneke Ensing, the indefatigable Ashleigh Moolman-Pasio, the great Marianne Vos and the hugely gifted and popular Katarzyna Niewiadoma who had finished second in every one of the last three editions of the race.
She would go on to finish third, with the relative unknown Dane Anneka Langvad unable to contain her delight and surprise at claiming second in her debut on the race. But Annamiek van Vleuten, who appears indestructible, shrugged off another terrible injury (this time sustained at last year's World Championships) to ride away from everyone on the final stretch of gravel road. The all-conquering Boels-Dolmans team, with three riders still in the race, relied on van der Breggen to drag the chase group back across to van Vleuten, but to no avail. The gap grew until, within the final ten kilometres, her victory was already assured.
There then followed a hiatus of an hour or so, while the motorbikes that had covered the women's race drove back out into the countryside to locate the men's peloton. Or what remained of it. This delay is an inevitable consequence of the harsh economics of staging two races for the price of one. To my knowledge, it's only the Tour de Yorkshire which supplies two entire moto crews to cover both races separately, so that, at the end of the women's race, you can simply flick across to the next event, starting a hundred miles away. It costs a huge amount of money to do that.
But neither did the men disappoint, when live images flickered into life. The last man standing from the morning break, Diego Rosa, was caught not long after the coverage started. But it had been good to remind ourselves of his as yet largely untapped potential.
The final selection of Wout van Aert, Jakob Fuglsang and the debutant Julian Alaphilippe was worthy of the setting. I enjoyed, in particular, the tactical assuredness displayed by Fuglsang and the Frenchman, who seemed unconcerned that they had allowed van Aert back into the race just before the final kilometre, knowing that the young Belgian would have nothing to offer on the hideous slopes of the via Santa Catarina.
Strade Bianche was a casual masterclass by Alaphilippe, full of characteristic twitch and swagger, bordering on disrespect at times. With about five kilometres to go he rode up to Fuglsang's side, and, lifting his left hand off the bars, stretched his back demonstratively, as if he had just got out of bed. The Dane tried, stoically, to ignore him.
Then, on the steepest part of the final ramp, having boxed Fuglsang in on the barriers, he glanced across at his only real rival, a fraction of a second before Fuglsang launched his final, fruitless attack, as if he knew that this was the only opportunity left to him. Alaphilippe predicted it. He almost willed it, manipulating the race to his liking. As he slipped past the Astana rider in the final 300 metres with six well-aimed pedal strokes, I found myself standing up and commentating. How can you, after all, remain seated and watch Alaphilippe race?
As both races finished, and both riders disappeared into the melée clutching their trophies, I knew that I would want to return to Siena.

Siena Cathedral
On my way back to the car, we walked past the unrestrained delight of the Duomo's 13th century facade, glowing in the late afternoon sun, and later still we went running across a mini Strade Bianche of our own.

Tentacles of delight
Then we ate thick tomato soup and a perfect octopus and potato salad, washed down with Chianti, and fell soundly alseep.
This morning, we walked down to a tiny little bakery and drank violently bitter coffee, sweetened with a perfect, tiny apricot pastry. One thought crossed my mind: I think I want to do this again.

Manic stare after espresso
If you enjoyed Ned's account, why not pick up your very own copy of The Road Book 2019 from our online shop: BUY "THE ROAD BOOK" HERE
Use the coupon code: RETROCLASSICS for a 10% discount.