'Friendless in Flanders: The Curious Case of Niki Terpstra' By Harry Pearson (RB2018)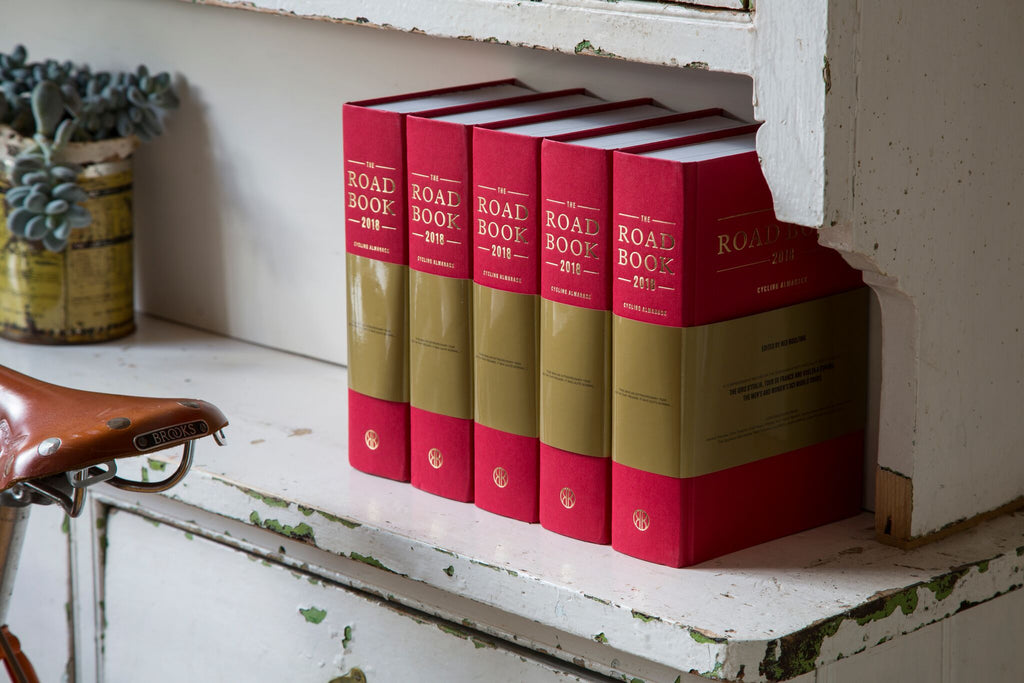 Road BOOK RETROSPECTIVE
In the build-up to this weekend's edition of Gent-Wevelgem, have a read of Harry Pearson's excellent essay from The Road Book 2018. This essay was one of our editor, Ned Boulting's favourite 'Classics' themed pieces and as such has been selected to join the Road Book Retrospective series.
Shortly after Niki Terpstra had finished fourth in the 2017 edition of Gent-Wevelgem, a journalist from L'Equipe finally asked him the question that was on everyone's mind: 'Nikki', he said, 'why are you so unpopular?'
Saying unkind hinds about Terpstra was a bit like buying cold cuts at a popular deli counter – you had to take a ticket and get in a queue. That week Peter Sagan's number had been called and the mighty Slovak – victor of Gent-Wevelgem – took the opportunity to denounce the Dutchman as a slipstream-hogging, work-shy character.
Twelve months later Terpstra had added Le Samyn, E3 Harelbeke and the Tour of Flanders to an honours board that already included Paris-Roubaix and a couple of Dwars door Vlaanderens. Yet still there was no sign the 33-yeard-old's popularity was becoming any less selective. Praise came grudgingly as glue from a long-abandoned tube; what applause there was seemed drowned out by the sound of tutting. On message boards and social media, people stepped up to explain the mystery of the Dutchman's negative reputation. Well, kind of… because amid the blizzard of exclamation points and Dutch swearwords, facts were in short supply. There were rumblings about Terpstra's use of his elbows during a sprint. But that hardly explained the animosity. After all, most top sprinters chuck their arms (or, in Tom Steels' case, water bottle) about without being treated like toxic waste. Eric Leman was as dangerous in the final hundred metres as a piranha in a bidet yet he was a 100 per cent Flemish hero.
There was chatter that Terpstra was selfish and arrogant – but how many star riders did that apply to? Certainly nobody would ever have accused Bernard Hinault of graciousness, and Jacques Anquetil's ego was so big it's a wonder it never got wedged in the Arc de Triomphe. Terpstra was said to be disrespectful, too. He had a habit of peppering post-race interviews with song lyrics (after E3 he answered a TV reporter's questions about the race by quoting Netherlands hip-hop artist Jebroer: 'I do not like apple. I do not like kiwi. I want to go with that banana – go bananas!'). Some thought this attitude cheeky and amusing, to others it appeared dismissive and disdainful. The critics said he was a whinger, a smartarse, a well, clever-clogs. He was involved in predictable Instagram goonishness and Twitter twattery – notably after a few half-cocked and ill-worded Instagram jokes at the expense of the Colombian Manzana Postobon team were interpreted by his detractors as racist.
Some claimed he was unpopular with the rest of the peloton and that his own teammates chased him down at Omloop Het Nieuwsblad to stop him from winning, contempt driving them on like a tailwind. Yet all the conjecture and rumour didn't really account for the situation. When he Belgian public had hissed at Andrei Tchmil or hurled abuse at Steve Bauer you at least knew why. With the curly-haired Dutchman it seemed people just took an instant dislike to him and tried to justify it afterwards.
As Patrick Lefevere – team director at Quick-Step, and the man who had done most to nurture Terpstra's talent – said, 'Nikki's problem is that every time he is at fault, it is used against him. It's unfair.'
A lot of the hostility to Terpstra comes from the Flemish. The Flemings and the Dutch may speak the same tongue but they have a touchy relationship. The Netherlands is Protestant-cum-agnostic and liberal; Flanders devoutly Catholic and conservative. They share a language but are estranged by religion and politics. Two rival cultures have been shaped by both. The Flemish see the Dutch as bumptious, mouthy, self-satisfied and tight-fisted. 'How can you tell the Dutchman in a pub?' the Flemish say. 'They have one bottle of beer and four straws.'
The Dutch meanwhile regard their southern neighbours as dim-witted, small-minded and vulgar. 'How do you confuse a Belgian?' the Dutch ask. 'Give him a piece of paper and write PTO on both sides.'
The Flemish have never embraced a Dutch rider as they have other foreigners (Fiorenzo Magni, Tommy Simpson, Fabio Baldato, Fabian Cancellara were all adored). It would be like a Scotsman cheering on the English. The best a Dutchie can hope for is grudging respect.
Terpstra seemed aware of the problem, saying, 'I'm pretty straightforward, typically Dutch, so I sometimes get a bit cheeky or arrogant about things, but I just say it as I see it – I'm not a hypocrite. If I think something, then I say it. That's it.'
In sport, perceptions are hard to shift. If you get a bad reputation it tends to stick. How many orphans would Cristiano Ronaldo have to rescue from a burning building, how many kittens would he have to save from drowning, before people stopped greeting the mention of his name with a grimace and a masturbatory hand gesture? There aren't sufficient on the planet.
Niki Terpstra's pathway to becoming if not quite the Voldemort of the UCI mythos (because that role will always be taken by He Who Never Failed a Drug Test), then certainly Professor Snape, was generally unremarkable. Born in Beverwijk a dozen miles or so outside Amsterdam, he began his professional career with the Dutch Bert Story-Piels team. In 2005 he won the silver medal as part of the Dutch pursuit squad at the World Championships. That same year he finished fourth in the Three Days of De Panne and 14th in the Tour of Flanders, hinting at a talent that would flourish later – though how much later may have been a surprise to everyone. From Bert Story-Piels Terpstra went to AXA whose team leader was the unremarkable Jens Mouris. After a season with another small Dutch Team, Ubbink-Syntec, he crossed the Netherland's eastern border to join the German outfit Team Milram. The starts at Milram were sprinters Erik Zabel (by then in his mid-thirties and well past his turkey-thighed best) and Alessandro Petacchi (at that point considered the fastest sprinter in the world). Petacchi soon suffered a severe knee injury and was then banned after a positive dope test. Severely weakened by the loss of the Italian, Milram chased success mainly in its homeland. Terpstra would win the jersey as the best climber in the 2007 Deutschland Tour. In 2009 he won Stage 3 of the Dauphine Libere, in 2010 the Dutch Road Race Championship. After the withdrawal of various sponsorship deals, Milram folded in 2010. Terpstra got a dream move to Quick-Step Floors.
Terpstra arrived at Quick-Step a few months after Stijn Devolder left. In terms of talent it might not have been an exact exchange, but in terms of public ambivalence it seemed a fair swap. If Terpstra was the rider they loved to hate, Devolder was the man who wasn't there.
In 2017 on a freezing Flemish day of driving lumpy rain I stood outside the café in Gistel that had once belonged to double Tour de France winner Sylvère Maes and waited for the arrival of the Dwars door West-Vlaanderen to come into view through the mist and spray. It wasn't the sort of field likely to attract the glory-seeking cycling fan, but in the previous few days there'd been a rumour that Tom Boonen might make an appearance. Tommeke was recovering from injury and needed miles in his legs before his final tilt at winning another spring Classic. Was it possible he'd forego a tune-up in Paris–Nice or Strade Bianche for a ride from windswept Nieuwpoort-aan-Zee to Ichtegem via the bumpy Heuvelland in the pelting cuckoo-spit sleet of Flemish March?
A family – a mother, father and two small boys – had taken shelter in the doorway next to me. I asked the dad if he thought Boonen would ride. At the mention of Tornado Tom the two small boys started bouncing up and down and chirruping as if they'd just heard Santa Claus coming down the chimney. But their dad shook his head. 'No, no, not today. He's not ready.' The boys piped up in protest but to no avail. I tried to cheer them up by saying that Devolder was definitely on the starters' list. It didn't work. We all shrugged at one another and went back to staring silently through the sheets of rain.
The lack of any positive reaction to Devolder's name didn't surprise me. I'd encountered it quite a few times in Flanders, which was odd because the rider from Kortrijk was a double winner of the Tour of Flanders. He'd also won a couple of Tours of Belgium, the Three Days of De Panne, three national road race titles and the national time trial championship twice. All of which might have generated a little bit more than the sort of 'oh him' expression that seemed to be the standard reaction to any mention of his name. Devolder had been a domestique at Quick-Step when he'd had his golden moments. People in Flanders were happy for him, but not that happy. Devolder was one of those odd sportsmen and women whose successes are chalked down to luck, yet who for some reason never draw the kind of warm-hearted appreciation the victorious underdog might expect. With Devolder there was little misty-eyed talk of a fairy tale come true. Ultimately, as the reaction of the little lads in Gistel demonstrated, Devolder's real problem wasn't who he was, but who he wasn't: Tom Boonen. And to some extent that went for Terpstra too. He was not cheered for being plucky but denounced as a non-entity, a man who profited simply from the negativity of the peloton as they tried to box in Boonen, cancel out Cancellera and later stifle Sagan.
When Terpstra won Paris–Roubaix one cycling website ran a spoof piece claiming the organisers ASO were going to strip him of his title because 'no one knows exactly who he is'. He was neither Tornado Tom nor Spartacus and his victories unsettled the overarching narrative of the spring Classics, which was the epic battle between the Flemish and Swiss giants. After Cancellara retired and Boonen began to run out of gas, the head-to-head between Greg Van Avermaet and The Tourminator would become an obsession with the Flemish cycling press – the subject of infographics and editorials that filled up the daily supplements. And along came Terpstra sticking his face in like an annoying neighbour photobombing the wedding snaps.
The first inkling that the Dutchman was about to disturb the rosy Belgian family-album of 2017, which had seen Greg, Philippe Gilbert, apple-cheeked young Olly Naesen, boyband-style idol Jasper Stuyven and tractor-driving son-of-the-Flanders-soil Yves Lampaert all doing very nicely in the only races that actually matter, came in Wallonia. Le Samyn is a minor affair, but one of such grim toughness – appalling weather, gappy cobbled roads sunk between the spoil heaps of Hainault's once-productive coalfields – it has a gritty glamour all its own. True to form, the 2018 event was joint-poppingly cold with evil crosswinds that gnawed at the riders as remorselessly as a hyena at a thighbone. Quick-Step chased down the day's major breakaway and then battered their rivals on the cobbled sections of the final circuits that run around the aptly named pit village of Dour. As the field splintered, Terpstra, Gilbert and the Frenchman Damien Gaudin got away. The two Quick-Step riders took it in turns chipping away at the Direct Energie man's reserves of strength until he was overpowered. Terpstra broke to the front, with Gilbert trailing a few seconds behind and Gaudin gradually slipping away like a man walking the wrong way up a moving pavement.
The victory marked a turning point for Terpstra. 2017 had been a disaster for him – marred by injury and accidents including the spectacular crash during Paris–Roubaix when, on the cobbled section between Maing and Monchaux-sur-Écaillon, his stem and steering tube detached, sending him flying over the handlebars and onto the unforgiving pavé. During the winter of 2017/18 he'd gone on a diet recommended by Quick-Step's team doctor. He arrived at the spring Classics a couple of kilos lighter than in previous years. Perhaps that was the secret.
A couple of weeks after Le Samyn, back north at E3 Harelbeke, a gaggle of Quick-Step riders set a killing pace on the slopes of the Taaienberg. Terpstra and his Flemish teammate Lampaert crested the hill first and put the hammer down, breaking away from the group. There were still 70km to go. It was a gamble but – with their teammates Gilbert, Zdenek Štybar and Florian Sénéchal controlling the pursuing group, which included local favourites Van Avermaet and Tiejs Benoot – a calculated one.
The Dutchman and the Fleming swiftly extended the lead to 45 seconds. Then Gilbert jumped clear of the bunch and began to bridge the gap to the leading duo. At one point he was just 15 seconds back. Should Terpstra have waited for him? His enemies thought so, obviously. Instead the Dutchman attacked again; leaving Lampaert, who had been grimly hanging on, floundering in his wake. Asked to explain himself, Terpstra replied that the noise of the crowds had been so great he had been unable to hear the team radio. 'I saw on the big screen only that a rider was pursuing us. I thought "Fuck, we had half a minute and now it's only 15 seconds, so we have to go full throttle."' Apparently unaware that his pursuer was his own team leader, Terpstra blasted his way up the Tiegemberg and rode the last 20km solo. He won by 20 seconds from Gilbert. Van Avermaet came third.
It was a bold win undermined by what the inevitable grumblers saw as a stab in the back to the popular Gilbert. And perhaps it wasn't as bold as it looked. Because another criticism of Terpstra was his tactics, his method of achieving victory. Winning in style is as much an obsession among cycling fans as it is among those who follow football and rugby union. It is not enough to be a champion, you must ride like a champion. Nobody – bar a few giants of the sport – have been immune from criticism. Rik Van Looy, 'The Emperor of Herentals', a man who dominated the one-day Classics in a manner never before seen, was often dismissed as a mere wheel-sucker by his critics and damned for using his teammates at Flandria and Faema-Guerra, the so-called Red Guard, to protect and serve him. As if to show them all, Van Looy won the 1962 edition of Paris–Roubaix by close to half a minute, after riding off the front all day, but then went back to what he did best. Johan Museeuw, the most recent rider to earn the coveted 'Last of the Flandriens' tag, also took knocks early in his career, his victories in the Classics denounced as cautious and unworthy by those who are designated to judge such things (Roger De Vlaeminck mainly).
In the 2018 Tour of Flanders Sagan showed how things should be done. The Slovak launched a spectacular attack on the steepest section of the Paterberg, storming away from his rivals in a display of brutal panache that had the veteran Flemish fans sitting eating their steak lunches in the cafes of Kortrijk, De Panne, Beveren and all points in between rising out of their chairs with their knives and forks still in their hands, open-mouthed, Béarnaise sauce dripping down their chins. This was a thing of wonder. This was how a champion rides, dammit, this is how a Flandrien rides.
Yet Sagan finished only sixth, caught and neutered by the shrewd team tactics of Quick-Step. The Belgian team controlled the race like a wolf pack picking off caribou, harrying, hustling, marshalling, and then, when their opponents were bloodied and weakened, striking ruthlessly. Terpstra and Štybar launched a series of solo breaks that cracked the field into pieces, then the Dutchman bridged the gap to neophyte Italian Vincenzo Nibali, burned him off, and grabbed hold of the breakaway trio, before overtaking them on the cobbled slopes of Oude Kwaremont. Behind him Gilbert and Štybar broke up the rhythm of the chasing pack, allowing Terpstra to solo to victory. These were classic team tactics, a simple plan beautifully executed. Unfortunately we live in an age fixated with celebrity. Fans and – more importantly perhaps – sponsors and TV executives want to see the stars shining, not being blotted out by a cloud of non-entities. Terpstra had not won the race, his critics said, Quick-Step had. He was like one of those average players in a great team who ends up with a cabinet full of medals. He was the Phil Neville of cycling.
'I read and hear what is being said about me and it's not very pleasant,' Terpstra responded moderately to the L'Equipe reporter's question. And perhaps, in truth he doesn't mind the blizzard of complaints so much. Some athletes feed off hostility. The booing and the jeers drive them on. Proving people wrong, spiting the critics, spitting in the eye of the doubters is a powerful motivator. If that's true of Niki Terpstra, then the way things stand you wouldn't rule him out from having another golden spring in 2019.
If you enjoyed Harry Pearson's essay, why not pick up your very own copy of The Road Book 2018 from our online shop: https://www.theroadbook.co.uk/shop/
Use the coupon code: RETROCLASSICS for a 10% discount.