In The Winners' Words: Jasper Stuyven (RB2021)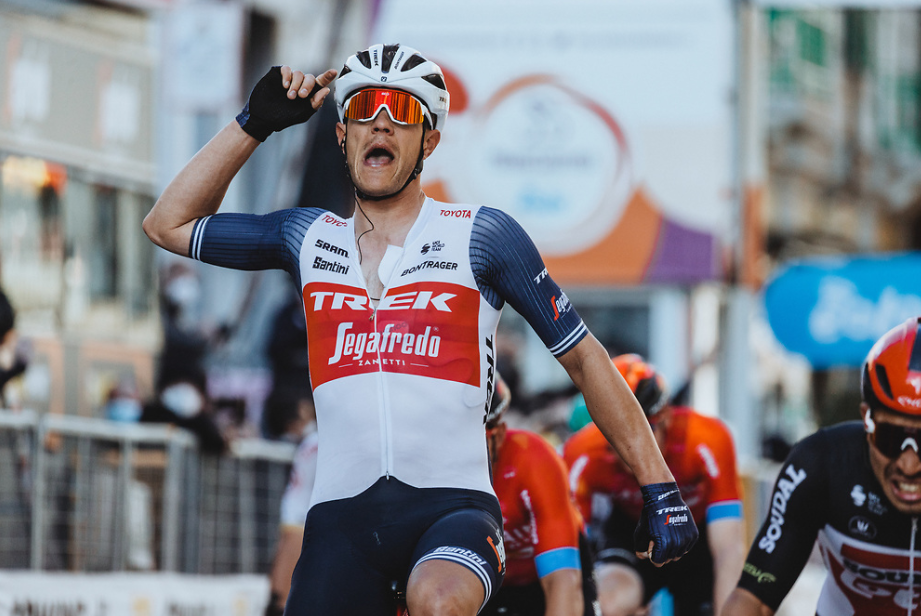 Road BOOK RETROSPECTIVE
In the build-up to this weekend's edition of Milan-Sanremo, have a read of Jasper Stuyven's account of his victory in 2021, from The Road Book 2021. This essay was one of our editor, Ned Boulting's favourite 'Classics' themed pieces and as such has been selected to join the Road Book Retrospective series.
Trek-Segafredo's Jasper Stuyven was born and bred in Leuven, in the heart of the Flemish Brabant. Throughout his career, he was tipped to win one of the cobbled Monuments, and often he had come close. At the start of 2020, he won Omloop Het Nieuwsblad, his biggest one-day race win to date. But nothing prepared him for the moment when, a year later, he sprang a surprise attack on the outskirts of Sanremo to fend off the chasing pack of favourites and ride out a maiden Monument victory.
——
It was one of those nights at the hotel in Milan. We had a good dinner, talking with the guys. Everyone only spoke about the big three names. It was the same in our team. We had the meeting and we were all realistic: there were three guys who were doing really impressive stuff: Wout van Aert, Mathieu van der Poel and Julian Alaphilippe. But we had a goal, a plan. And we tried to do it as well as we possibly could.
I was confident. For a few days, I had been feeling really good. I spoke to Ryan Mullen for a long time. Ryan's on the Classics team with me, and we have a good relationship. I told him that I wanted to avoid every little bit of wind that I possibly could with him in front of me, that it might make a difference. I was counting on Ryan quite specifically to go to the next level to protect me. It might just give me a chance of winning the race. I truly believed it was possible. I came to the race with a little bit of a different mindset from in previous years, and I really had my views on how to race it.
You need to be wide awake at the start. In every team meeting they always mention the tram tracks in Milan. Every time I have raced Milan–Sanremo there have always been some crashes there. This year I didn't hear or see any, but there are always guys who don't make it to the official start because of a crash in the neutral roll-out. It has its charm.
Normally they stop the race at the official start, but this year they didn't. I'd been talking to Oliver Naesen and he stopped for a pee because he was expecting them to stop at the end of the neutral. But we went immediately. I didn't see him again until 20 minutes later, after he'd already had to chase back through the cars.
You don't want to start the race too relaxed. You don't want to end up riding in the wind, thinking, 'It's OK because we still have six hours to go.' You don't want to lose concentration, hit a bump and lose your handlebars. It's the same with eating and drinking. You can almost forget that you have to do it. All those small things make a big difference.
In Milan–Sanremo everyone feels this kind of laziness for the first six hours. And the first time you really have to push, you think, 'Woah, what's going on here?' The mental game is so important – not losing focus. You know it's normal that the body is a little bit lazy. You know it's normal that the body has to wake up. There's almost no other races where that is the case.
The first 80km were really fast, which was good. But then I had a little bit of mental crisis and was suffering a bit with how slowly the time was passing, from 80 to about 150km. But I talked to a lot of the guys: Oliver Naesen, Ryan Mullen, Yves Lampaert and Wout van Aert. It was important not just to be there looking around in silence. Some guys had been at Tirreno–Adriatico and so we talked about that. I spoke to Michael Gogl about how well he'd done at Strade Bianche, and with Yves we spoke about Paris–Nice, as well as about our girlfriends, who are very good friends with one another. And we talked about a TV show that was popular on Belgian television. There's always lots to talk about, not just cycling, and it's more than simply, 'Hello, how are you? What's your next race?'
The Turchino pass is a little bit harder than the route the race took this year. The valley road is less of a gradient, and I had the feeling that the peloton was a little bit less stressed. But the descent was quite technical and it stretched out the bunch.
All race I was stopping every 10km to have a pee. I don't know what was going on with me that day, but I stopped 13 times in total and it was driving Ryan crazy. We'd come back from a pee break, and five minutes later I'd tell him I needed to stop again. He thought I was kidding, until I told him that I really had to go again! Our sports director Kim Andersen said on the radio, after he'd seen me stop for the tenth or the eleventh time, 'Hey, Jasper! You're going to fly up the climb! You're so light after all those pee stops.'
Then, from the moment we hit the Capi climbs, the stress started. There were some tougher moments, but nothing that made me think, 'OK, this is really crazy.' The guys did a really good job in front, which meant I was able to conserve energy there. From the first of the Capi it really starts, and then the run-in to the Cipressa is quite impressive to be inside.
We lost each other a bit heading towards the Cipressa, and there it got a bit more dodgy. I had to take a few more risks than I would normally have done to be in the right position at the bottom of the climb. But it's a fight where everyone is trying to do the same thing, bumping shoulders. No one wants to be the first one to brake. I found a good gap right before the turn onto the Cipressa, so I hit the climb in maybe fifth or sixth. That was perfect.
Heading onto the Poggio I got a little bit boxed in. I was surprised by the way Ineos took control. Then I spotted Jasper de Buyst moving up on the right with Caleb Ewan. I've known Jasper for a long time, and we used to race on the same team. I know that's he's really good at being where he needs to be. So I jumped onto Caleb's wheel and that way I turned onto the Poggio in a really good position.
On the climb, Ewan stayed right behind the Ineos guys. I was a little bit further back, maybe five or six spots. I was happy where I was. Over the top there were about eight of us, and another four who chased on. I was quite surprised that it was such a big group as we hit the downhill. No one expected that, I don't think.
From the top of the climb, I knew that I was going to attack. Where I would attack would all depend on the moment that everyone would slow down and start looking. But I didn't know when that moment was going to come. I just wanted to try and stay open to taking the opportunity whenever it was there.
To be honest, I have a feeling we didn't go full speed downhill. There was a bit of hesitating. But what makes that descent so special is that you come over the top à bloc but then the downhill is so technical that, even though your body's on the limit physically, you still need to have the mental focus. And when your heart's beating at 190bpm, it's hard to keep it all under control. Pidcock went to the front and it went a little faster, and Schachmann opened up a little gap. But even then, I didn't feel I needed to start taking risks to stay up towards the front. Alaphilippe was the first one to try, and Pidcock immediately reacted and closed the door.
After that, I took my chance. My attack was really, really all-in.
For the first 30 seconds I felt amazing. I took the speed from the downhill, in the big gear, super fast. But then after 30 seconds the lactate reached my legs and I started fighting with myself to push. I had to tell myself, 'You need to go through this pain! This is all to win a Monument! This is your chance. You can't give it away now.'
I didn't look back until the moment that Søren Kragh Andersen caught up with me. I also felt it in my legs, so I knew that the way he'd closed the gap would have cost him a lot of energy. What I didn't know was how much room we had if he'd decided not to pull. Then I started to look around a lot to know where everyone was. With 1km to go, there is a kind of chicane. That was when I allowed myself just a moment to relieve a little of the pressure in my legs, take a deep breath and then go for the last 700 metres even with him on my wheel. So I did and that was what enabled me to jump on his wheel when he went to the other side of the road and attacked, though there are no TV pictures of that moment.
I knew I had to dig really deep to stay on his wheel. It was really painful. But I knew that if I could stay seated on his wheel, and if he just rode tempo, then I might be able to recover enough to take him on in the sprint. I knew how close the bunch was but I told myself, 'Don't get stressed. Because if you go too early then they'll roll you over on the line.' So I took a big gamble, but also I felt so in control of the situation. I wouldn't like to call it the 'killer instinct' because it's not as if I win a race every week, but I felt like I was doing the right thing. I took the right decision. It's what happens when you are on a good day. I am convinced that you see things more clearly when you are on a good day.
It's a beautiful finish line. It was so nice to throw my arms in the air. I only did it when I was sure that my front wheel was going to pass the line first. At that moment I felt alone in the world. You can see in the photos that I am not yet really going crazy, because at that point I was not really aware of what had just happened – that I'd just made the biggest achievement of my career. It was only in the following days that it became clear.
After the podium, everyone from the team was waiting for me at the parking lot. And then everyone just went home. They dropped me off in Monaco, where I live. My girlfriend was waiting there for me, and I handed over the flowers from the podium. Then we just cooked a normal dinner of pulled pork with some grilled potatoes and carrots, but I wasn't super hungry. We opened a bottle of champagne, which we enjoyed, and then we talked a lot about the day and how it went. She told me how she'd experienced the day. I got to spend that evening with the person I love and that makes it even more valuable – that we could enjoy it, just the two of us.
It was really strange actually: I still didn't realise what I'd just achieved. Even without winning Milan–Sanremo, I am proud of what I've achieved. I've always been up there, and I've had some nice victories and so many races where I was close, that I almost won. A rider should always appreciate those results, but in cycling it is about winning. But winning Sanremo was another level. It was not the Monument that was first on my list – I always thought more about Roubaix or Flanders – but that doesn't make it any less beautiful.
If you enjoyed Jasper's essay, why not pick up your very own copy of The Road Book 2021 from our online shop: BUY "THE ROAD BOOK" HERE
Use the coupon code: RETROCLASSICS for a 10% discount.