In the Winners' Words: Tao Geoghegan Hart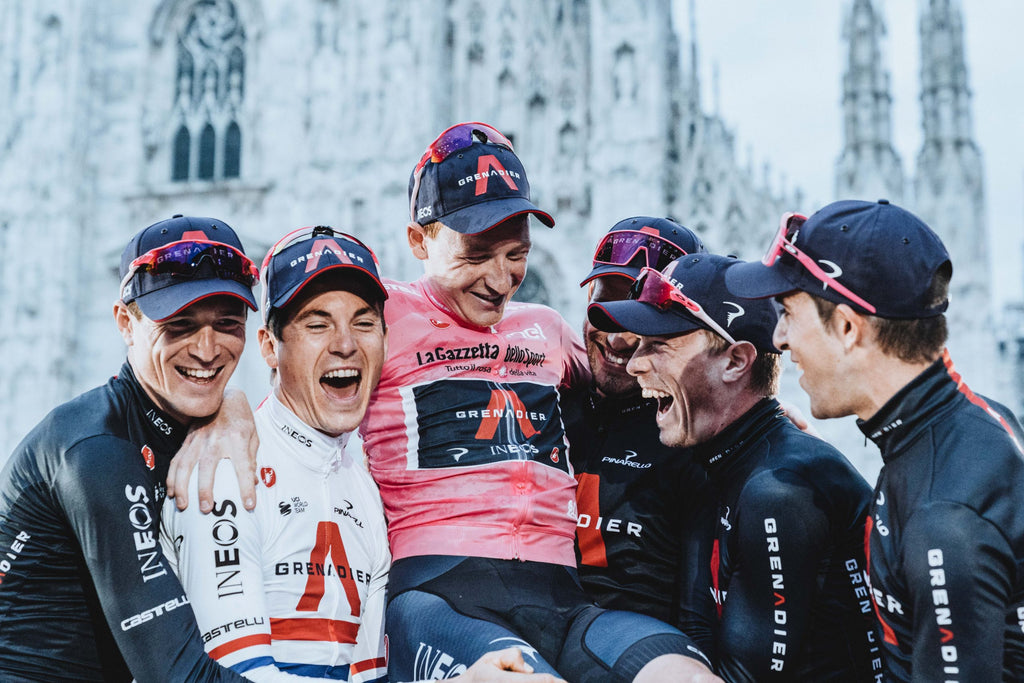 This is an exclusive essay from the words of Giro d'Italia 2020 winner Tao Geoghegan Hart as detailed in print in The Road Book 2020- Cycling's only almanack and complete review of the season past.
To celebrate the return of the Giro d'Italia to the it's rightful place in the racing calendar, Purchase the Road Book 2020 & receive 15% off + RB Exercise Book (RRP £10.00) for a limited time only by using code at checkout: GIRO2021
The first time Tao Geoghegan Hart wore the leader's jersey at the Giro, the race had already finished. It was a truly extraordinary finale to a mighty edition, which came to a crescendo on the famous Stelvio Pass when he announced himself as a genuine GC threat after being paced up the climb by the exceptional Rohan Dennis. Before that, Geoghegan Hart had already ridden to victory at Piancavallo – a win he dedicated to the memory of Nicolas Portal, the much-loved Team Ineos DS who had died in the spring. The young Londoner won again on stage 20, to tie exactly with Australian Jai Hindley on a completed 88 hours, 22 minutes and 7 seconds. A short time trial in Milan would seal the Giro, and see Geoghegan Hart reunited with his partner, and fellow professional racer, Hannah Barnes. It was a fairy-tale ending to the most unexpected Grand Tour outcome for generations.
I have two clear images. The first image is of me crossing the line in Piancavallo – my first WorldTour win, a first Grand Tour stage win. It was a huge, huge step. The other one is of me tucked in behind Rohan on the Stelvio, with the snow all around. I think of everything that climb represents. It is so much more than just a road and the race is so much more than just a race. That climb is a metaphor for the Giro.
Those two images feel quite intertwined. Because, without the first ,you wouldn't have the second.
—
It was my first time in Sicily. The Italians talk about it as a little bit of a mythical place, very different to mainland Italy. We had Salvo with us. His family's from there and he was born there. We spoke quite a lot about it at dinner, trying to understand the mechanisms of the island and the history and the intrigue, the various things that may or may not go on there. It was certainly beautiful. I'd like to go back there.
I was right next to Geraint when he crashed. I stopped at the side of the road for
I don't know how long. It felt like a really long time. We rode down to kilometre zero. G was just behind us, and the peloton waited. The doctors kind of bandaged him up. And then we got to racing and from that point on it was all very unspoken and very professional. I think a few of us teammates exchanged the odd word away from Geraint, but certainly nothing was said to him. We just approached the race exactly how we otherwise would have done until told otherwise.
It was a difficult day, definitely my worst day in the Giro. It was the only stage where I had any problems. I think I hunger-flatted on Etna. I'd felt really, really good and surprisingly able to compartmentalise everything until the last 2km, when I just didn't have any legs. It wasn't like they went faster; I just went considerably slower.
By stage 4, we were still in a bit of shell shock. We got to Messina and we got on a boat more or less directly from the finish, after showering in the bus. Then we drove to the hotel. I think everyone was pretty raw from what happened the day before. It showed how much everyone was invested in G and how much it meant to everyone.
And then the next day, a man called Filippo Ganna decided that he was going to attack. I don't think he even decided actually, he just did it. It was the longest stage of the race and Filippo made the breakaway by taking Puccio with him and going full gas on a slight downhill road. He forced it by dispatching people from his wheel. There are probably only three people on this planet that have the ability to do that. And then somehow, he went on to win a tough mountain stage up a long climb alone in the rain, in almost zero visibility on the top.
We were in amazement afterwards. I was in awe of Filippo and I still am. That day changed the rest of the race. Without it, I don't know how the race would have been. That was the fire-starter. It was a moment. It wasn't a gradual change. What had happened, so cruelly, had happened. But he just flipped it right back onto the A-side of the record and got the music back on. And off we went. Filippo, that day, started something new and turned a new chapter not only in that race, but in our team, in our year – and maybe, to some extent, in cycling.
Without it, I don't know if any of the Giro would have happened. Johnny won an incredible stage in amazing fashion and kind of shrugged it off in the way that only he could. We got to midway through the race and already we had three stage wins. A team that's lost their leader in that fashion and has three wins in the pocket and a few days in pink has a certain freedom. We just continued to express ourselves and carried that momentum on.
I'd won a couple of stages at the Tour of the Alps last year, but the difference between that level and WorldTour is astronomical. And then WorldTour to Grand Tour is a whole other stratosphere. I thought about Nico Portal a lot. I'd trained with him in my mind, ever since March. I really desperately wanted to win a race this year to be able to dedicate to him. It was something I'd dreamed about. It was very emotional. I mean, I've not won many races. And it was amazing to have Oli and Matteo and the guys from the car directly there within a minute, and to see them so full of adrenaline and energy was amazing. Yeah, it was a special day.
I wasn't really thinking about the GC. I think it would have been very silly for someone who's only had two professional victories to not focus on only that chance to win. Even in the next days, we didn't pay too much attention to the GC. Obviously, it was there. But I knew myself, and we knew as a team, that the Stelvio climb was going to completely change the race because it was the first back-to-back mountain stage. The Stelvio is the Stelvio. There's nothing really like it in cycling. I was expecting one of those big established names who were still lurking and clearly had good form – even if they weren't in the top three or four of the GC – to do something special. That was my gut feeling. I was very aware that the GC was going to dramatically change, but I could have never anticipated that it would change in the way it did. I heard from someone in the team that Rohan had said the night before that he was going to do something on Stelvio. I think they'd laughed. I certainly wasn't aware of any plan.
There was a moment when the pink jersey was just starting to have a few difficulties: in a series of the first load of switchbacks that were all pretty treacherous actually – wet and tight – Rohan just looked over his shoulder, and I just said, 'Yeah,' and that was it. Then he just did what he did. And what happened, happened. And I was very much the willing and profitable passenger really, because he was spectacular.
It was completely unspoken. I don't know if he started his turn with the intention of doing the whole climb, but certainly the key moment was when Matteo came over the radio with detail that we don't normally get in a race. And he said that Kelderman had lost one metre. And from that second, it just kind of snowballed. Suddenly it was two and then I think we had ten. And then it was 5 seconds. And then 10 seconds. We were still just going at a very strong, very high tempo. In the last couple of kilometres – and we were at serious high altitude by this point, the highest that you ever race at – it suddenly started snowballing at a much higher rate and we heard 20, 25, 30. It was then that, for the first time, Rohan and I spoke. I said, 'Right, let's play the long game now. We can back off slightly, pull our jackets on, and make sure that we go over the top together.'
And I was very aware by that point that the key place to have Rohan was going in the valley. I had the biggest kilometres of my life to see what would happen. With Jai Hindley on my wheel, I knew that I didn't want to touch the front before the last climb because that would give him an even better kind of tactical position than he was already in. I envisaged that it would go more or less exactly how it did really, but I didn't expect that we'd have so much time to play with.
I was very disappointed not to win the stage. But that is bike racing. I didn't do a very good sprint, in all honesty, but that's life. It took a long while to get off the climb. I put my jacket on straight away and descended down as quickly as I could, my buff over my face. Because I was the first guy coming down, a lot of the GC riders were still coming up. I had a few issues with policemen doing their job, thinking I was a punter. Riding down I felt like I'd missed a big opportunity and I was pretty heartbroken not to have won the stage.
It was only driving to the hotel – kind of 45 minutes, an hour later – that that I even saw the time gaps and, most significantly the GC. Then it started to slowly dawn on me that actually it had been a pretty incredible day. I spoke to Dave that evening, and he said, 'That was an incredible day. You didn't win the stage, but you won the day.' Over the following hours I slowly got my head around that it had been a better day than we could have ever really dreamed of that morning. To come within a sniff of the jersey, and for it all to be so tight with still one stage more to go in the mountains…
Sestriere. We pivoted in our tactics from how we'd raced the other stages. We waited and we picked our moment. Then we basically just burned every guy for as long and as hard as they could do. I was just sitting there looking at the five guys working, and I was smiling. Then Rohan took over and threw a few metaphorical grenades into what was left of the peloton. I mean, we had the same wrecking ball.
It was everything that we had planned towards, everything we had hoped for. Rohan never really finished his job. I mean, with a kilometre to go, and from what I've seen, I think he could have probably contested that sprint with us if he'd wanted to. He did an amazing job because every time Jai went and really committed, when his attack would subside I would look to my side and within 5 seconds there was Dennis the Menace again. Jai would also look and see him just there – three, four, five times.
From the moment we got the information that Kelderman was 20 seconds down, I knew I just needed to follow Jai. That was my complete mindset. And I think in some ways I regretted not attacking earlier. But that was the first moment in the race where I started to think, 'Wow.'
Every experience in cycling, every TT and every track race, every moment of my career had prepared me to just focus on those 18 minutes in Milan. Forget about the rest and go full noise.
Hannah, of course, was there. Crossing the line was the first time I saw Hannah, she was the first person I saw. I hadn't seen her for a month. All through the TT I knew that the quicker I went, the sooner I was going to see her. What better motivation, really? Pink jerseys and trophies and everything else aside, I think that's the best motivation anyone could ask for.
I never once allowed myself to think about the maglia rosa. I never once envisaged pulling on the jersey until kind of the moment it was given to me in some weird little tent behind the podium. I had to put it on myself because of Covid rules.
—
Of course, the world changes around you and you're a little bit at the mercy of those changes. They can mould you in some respects. But I feel exactly the same person, and I'm pretty resolute to stay that way. I've always loved riding my bike. That won't change.
Purchase the Road Book 2020 & receive 15% off + RB Exercise Book (RRP £10.00) for a limited time only by using code at checkout: GIRO2021