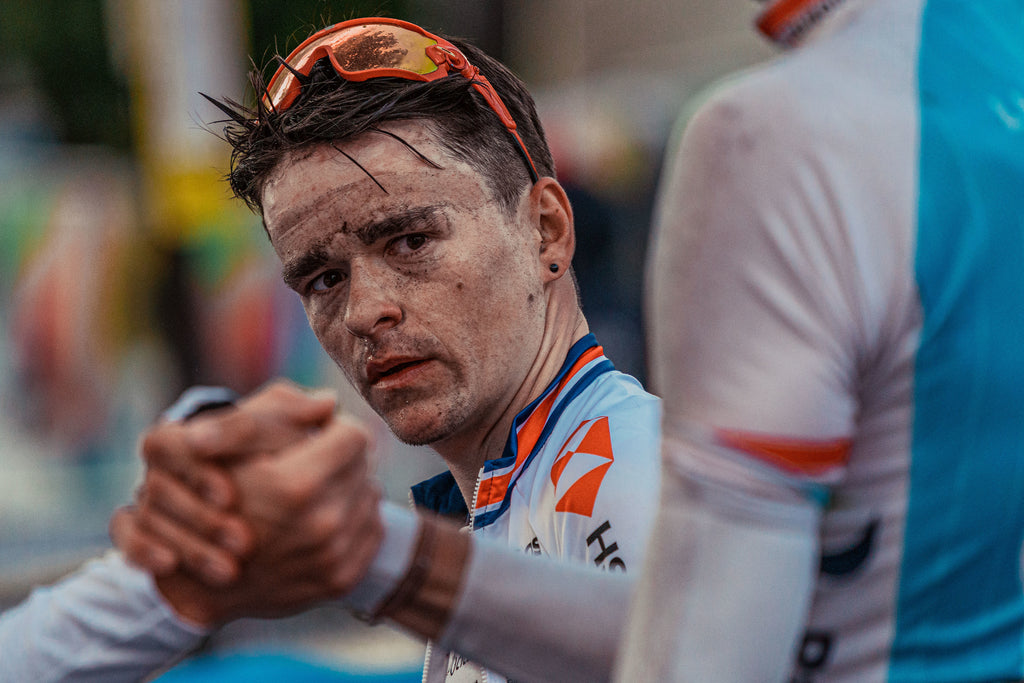 Full disclosure: I only had half an eye on Sunday's bizarre-looking Cyclocross World Championship, as I was actually working on a Darts broadcast at the time for ITV. But it says a lot about the weirdness of the event that it drew the curiosity of the Darts fraternity to the screen I was watching it on.
'What the f***'s that?' was the general tenor of the enquiry. Followed by laughter, and then, 'who thought that was a good idea?' We stared at people riding their bikes through the sea.
Cyclocross is not a normal way of behaving. The best way to go from the Wellington Racecourse in Oostende down to the seafront is obviously on foot. You zip up your kagool and wait patiently at the pedestrian crossing before treading gingerly down to the beach, where, stung by the gale that whips sand and salty spray into your face, you smartly turn around again and head for the comfort of the car.
The silliest way of doing it is of course on a bicycle. Racecourse – Bridge over the road – North Sea and back again, eight times, with some of the fittest people on earth also on bikes and chasing you through sand that is so deep you have to carry your flipping bicycle and run.
I'll be up front about this: I'm not hugely into Cyclocross, ancient and venerable though it is. I described it recently as being like the appendix in cycling's evolution; a thing that somehow survived and no one can quite remember what it was for. Given current and unprecedented levels of almost religious enthusiasm for this bonkers sport in the UK, this is an opinion I can only safely express on these pages, inside my own walled garden. Look for the comments section, if you wish. There isn't one.
For all its beguiling oddness, and the clear fact that it produces great champions, there are a few things I don't really warm to about it. The most important of them is this: the rider in front generally speaking wins because they are the rider in front and de facto that normally means they're better. The joy of road racing is that it's almost never the rider in front who wins. Unless they're Remco Evenepoel or Annemiek van Vleuten. Or Hinault. Hence the subtlety. Give me nuance over mud any day.
Anyway. What I really wanted to do was to jot down a few notes on the rider who finished fourth in the men's race on Sunday. Tom Pidcock was bitterly disappointed not to be on the podium, and I can quite understand why. He's a rider who measures himself against total success, and little else. He's also a rider who has come into elite Cyclocross just a few years after the establishment of perhaps the greatest rivalry of all time in the sport: Van Aert versus Van der Poel. A handful of years their junior, Pidcock's time will come if he wants it to. But the question I find myself asking is: Will he still be swilling around in the mud to take the plaudits? Or will he have moved onto other targets?
I've followed Pidcock every step of his swaggering way to where he now finds himself, poised at the Départ Réel of his road career. Now with Team INEOS he will, for the first time, start to discover what he's all about on tarmac. And it could be a lot.
Tom Pidcock at the World Championships Harrogate 2019
It's worth noting that he differs in fundamental ways from the "two Vans". They will both continue to amass one-day races galore, and in van Aert's case, continue to plug in the most cavernous and unlikely gaps in stage races too. And who knows, the Belgian might well choose to become a GC racer in the years to come – but it's not a given.
Pidcock is a tiny figure next to them; much more akin to Remco Evenepoel. The phrase "pocket rocket" was created in anticipation of the advent of Pidcock. Yet only eighteen months ago, I was at a lunch with the young Yorkshireman and we were discussing his future. He'd just won 2019 Paris Roubaix Espoirs a week or two earlier. I asked him what was next, and he told me he was heading to the Tour of the Alsace, a race which features some fairly long climbs.
'How do you think you'll go in the mountains, Tom?'
TP: 'Don't know. Never done a long climb before.'
'What do you mean?'
TP: 'I've literally never raced one in my life. So I have no idea.'
This is what happened. He won the stage to la Planche des Belles Filles and took the overall. The following summer, concurrent with the delayed Tour de France, he took three mountain stages of the "Baby Giro" and crushed the GC, winning by 2'25". So he can climb, it seems. A rider who can compete at the level he does in races like Paris Roubaix, as well as his evident brilliance in the proving ground of Cyclocross; this all suggests he possesses the physical attributes that make him ideally suited to being a GC rider.
The big question is whether or not he wants to go this route. I recall speaking to someone who knew him well who was wondering whether or not he would simply tire of the discipline required in racing GC over a week, let alone three. He adores the hour long cut and thrust of a Cyclocross tear up. Can he curb his instincts to sit in the wheels waiting for hour after hour, day after day? Because that is what's required of a GC rider.
An INEOS insider I was messaging recently was expressing bewilderment at the GC riches at their disposal for 2021. The team doesn't yet know how to deploy them over the next couple of years: Bernal, Thomas, Porte, Geoghegan Hart, Carapaz, Sivakov, Matinez and Yates. How on earth to use them?
'And Pidcock?' I added.
'Yeah,' he replied. 'Should be. But who knows? Let's find out.'
Minutes after he won the Baby Giro last September, we were on air on ITV during a sleepy section of a stage at the Tour de France. Just on the off chance, I decided to ring Pidcock during a commercial break and to my great surprise he picked up the phone. He was on the rollers, warming down, and hadn't yet been on the podium. We talked on air about his victory, and just as I was about to thank him for his time, he interrupted me. 'What's going on at the Tour today?' he wanted to know, as any fan of the sport might.
One day, perhaps quite soon, Pidcock might be the answer to that question. In the meantime, the immediate puzzle is this. You can take Pidcock out of the sand and the mud. But can you get the sand and the mud out of Pidcock?
Of all the British talent to emerge over the last fifteen years or so, this is the one that most intrigues me. Pidcock is just different. He's fiercely serious, but playful. Modest, but full of swagger when the moment seizes him. He can come across as closed, but is actually engaging, intelligent and interested in what the world has to offer. He's not the first to venture an opinion but will not shirk an honest reply.
He's all sorts of things. I think he's brilliant.
Ned Boulting